In 1983, Dry Creek Valley got its AVA. It's about time, said some valley winery owners. After all, Dry Creek Valley has been the go-to spot in Sonoma County for Sauvignon Blanc and Zinfandel for many years before the 1980s. And Dry Creek old-vine Zinfandel didn't need an American Viticultural Area (AVA) to justify its greatness.
By the early 2000s, the center for Zinfandel in the Dry Creek Valley had moved up the hill to a spot called Rockpile. The aptly named area is above the morning fog that sometimes creeps into Dry Creek Valley, allowing vineyards in Rockpile to enjoy maximum sun warmth.
What follows is a capsule look at the Dry Creek Valley AVA followed by the Rockpile AVA and the most significant wines from each area.
Dry Creek Valley (AVA 1983)
Dry Creek Valley is slightly north and west of Healdsburg and today has 40 wineries lining Dry Creek Road, which runs from close to H-101 to the Warm Springs Dam that holds back Lake Sonoma. Normally, full of water, the reservoir is now only about 60% full, the victim of two years of devastating drought.
Most of the wineries along Dry Creek Road and Westside Road opened their doors starting in the early years of the 1970s. David Stare, founded Dry Creek Vineyard in 1972, the first new winery since the Repeal of Prohibition. DCV's Sauvignon Blanc and old-vine Zinfandel, set the standard for more wineries to follow.
More recently, New Zealand native Nick Goldschmidt has been making a line of wines from Dry Creek Valley grapes. The Goldschmidt Vineyard range of wines is extensive, including from Napa and Sonoma, Argentina and New Zealand.
Recently tasted were Chelsea 2019 Salmon's Leap Dry Creek Valley Merlot: medium berry nose with notes of vanilla and cedar over spicy oak; medium berry flavors, good acidity, integrated smooth tannins. A serviceable Merlot at $25.
Gracepoint 2019 Dry Creek Valley Carignane: deep ruby color, slightly closed in nose, alcohol (15.7% alc.) tingle in the nose, bright mouth-filling cherry-cola flavors, French oak, slight alcohol sensation in back of throat, tactile with good length. This Carignane (U.S. spelling of Carignan), $60, is a taste experience oddity demanding food that will stand up to its big fruit and alcohol. It reminds me of an early style of Late Harvest California Zinfandel. Get pumped up before carrying this wine home from the store; you'll need the arm strength as this Carignane comes in the dreaded big heavy glass bottle.

A culture of grape growing and wine making have been part of Dry Creek Valley since the 1800s. Prohibition put a serious dent in the valley's wine making, with the growers pulling out vines to plant wheat and walnuts. Italian families, like Pedroncelli, that had been in the valley since before Prohibition, survived the lunacy of Prohibition by selling their grapes to home winemakers and making sacramental wine.
Today, Zinfandel and Cabernet Sauvignon vie for most planted. The evolution of Zin style has been up and down. At one time, the Zins were big and alcoholic (reaching above 16%), tasting more like berry jam than wine. Fortunately that style has receded into memory and the wines are better balanced, especially from old vines, more interesting and nuanced and above all, showing lower alcohols.
Six Dry Creek Valley Zinfandels of note: Ridge Lyttton Springs, Nalle Vineyards, Ravenswood Winery, Dashe Cellars, Dry Creek Vineyard, Pedroncelli Winery.

Rockpile (AVA 2002)
Northwest of Dry Creek Valley and above Lake Sonoma is Rockpile, a hilly area that specializes in Zinfandel. The first vines were planted in 1992, so there are no old vines, a marker for intense California Zinfandel. But Rockpile Zins are plenty big and intense on their own.
While Zinfandel is the banner grape of Rockpile, the region is also known for Syrah, Petite Sirah, Cabernet Sauvignon and Touriga Nacional, a Portuguese grape used in the production of Port wine.
Like many areas in Northern California, the wine history of Rockpile is divided into two eras of grape growing. In 1884, a Swedish immigrant first planted grapes in the area that would eventually become Rockpile. However, the wines were only available in Sweden, so hard times and transportation time and costs, put a stop to the venture.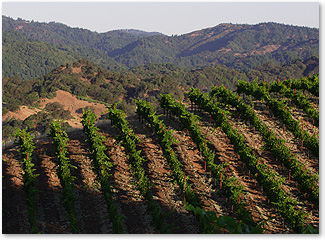 Mauritson Independence-Rockpile vineyard
Today, the Mauritsons, descendants of the enterprising Swede, have taken up the challenge of grape growing on Rockpile. Mauritison, the largest producer of Rockpile wines, has 10 different Rockpile vineyards and produces seven Rockpile Zinfandels, a Malbec and a Cabernet Sauvignon, two red blends and a Rockpile Port.

Although there are no wineries on Rockpile, such noted Zin producers as Seghesio Family Vineyards, Mauritson Family Wines, Jeff Cohn Cellars, Rosenblum Cellars and Carol Shelton Wines purchase Rockpile Zinfandel grapes. Carol Shelton's Rockpile Reserve Zinfandel from the Florence Vineyard is bursting with berry flavors, substantial but soft and integrated tannins and good length.
What's next? Single Malt Whisky and Wine
Contact me at boydvino707@gmail.com