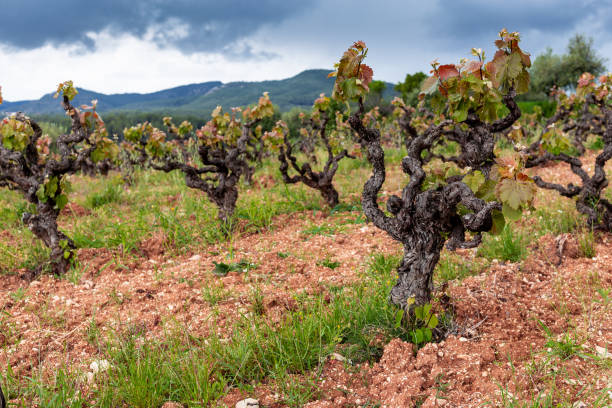 The vineyard in the photo above is one of many throughout Spain growing old-vine Tempranillo. While yields from these gnarled bush vines are predictably low, the grapes the vines produce are deeply colored with concentrated tempting flavors.
Tempranillo is the work horse red of Spanish wine. Planted in Rioja, Toro, Ribera del Duero and other regions, the popular grape is responsible for a variety of styles, from youthful grapy-raspberry, to structured age-worthy, richly textured wines with spice notes.
Although fans of complex red wines can find a style they like, Tempranillo lovers know that the best examples come from Rioja and along the Duero river in Ribera del Duero.
Rioja Alavesa wines are delicate and aromatic, while those from Rioja Alta are richer and darker. The lesser wines of the hotter Rioja Baja tend to be jammy.

Even with the dominance of Tempranillo in Rioja, many of the wines are blends of Tempranillo, Garnacha (Grenache), Graciano and Mazuelo. Blending creates a unique style, but it also deminishes the presence of a terroir in the wine.

Ribera de Duero Tempranillos are bigger wines with more concentrated flavors. Tempranillo makes up about 85% of the vineyards in the Ribera and the wines must be a minimum of 75% Tinto Fino ( the local name for Tempranillo).

Chalk, a porous sedimentary limestone, is a vital component of Tempranillo vineyards. Chalky clays predominate in Rioja and Ribera and are part of the alluvial mixture in Toro. Some vineyards in Ribera del Duero are so rich in surface chalk, they appear covered in snow.
Chalk white against sky blue

After 20 years, a grapevine begins to lose its vigor, producing smaller crops. But grapevines are long-lived, some reaching 100 years and still producing grapes. Spanish Tempranillo vines are often grown as bush or "goblet" trained vines and exceed 35 years.
Aside: When it comes to wine grape vines, the question is how old is old? The controversy has been kicking around for years, especially in California. Some say a vine should be 25-35 years old before you tag it as an "old vine." But most vines are only getting started at that age, so maybe it should be 50-75 years old?
The bottom line is that wine marketers like the old vine designation, so it doesn't matter to them if it sells wine. Grape growers, however, are more inclined toward a statement of maturity. As someone of age, I tend to side with growers.
Tempranillo is a natural with oak. American oak has been used in Rioja, where Tempranillo is the major red grape, since the late 19th century. Tempranillo's mellow fruit melds nicely with the subtle vanilla notes drawn from American oak. Due to the long aging in old barrels, Rioja needs little to no bottle aging, especially for joven and crianza.
Joven wines are unoaked, although some wineries wood-age them for less than six months. To distinguish between oak or no oak, some wineries add "roble" (oak) on the labels to denote that the wine has spent some time in oak.

By law, Crianza must age a minimum of 24 months, with at least six months in oak. In practice, though, Rioja and Ribera del Deuro require a full year minimum in oak and many wineries keep their wines in barrel longer.

Old barrels are still mostly used in Rioja, the wine getting subtle oak seasonings from long aging periods. However, the trend, first started in Ribera del Duero, leans to more fruit and less oak, as well as the introduction of French oak.
Before the era of knowledge sharing, growers had local names for the same grape, a practice that remains today. Thus, in Ribera del Duero Tempranillo is known as Tinto Fino, in Valdepenas it is called Censibel, Ull de Libre in Catalonia and Tinto de Toro in Toro. In neighboring Portugal, Tempranillo is called Tinta Roriz or Tinta Aragonez. Fortunately, the grape naming remains local and doesn't appear on labels.
There are a lot of Spanish wines in the market today and not all of them are available in all markets. It's always best to consult your local wine merchant, but to help you along, here are a few popular Spanish Tempranillos.
Rioja: Marques de Riscal, Campo Viejo, Martinez Bujanda, CVNE, Muga, Lopez de Heredia.
Ribera del Duero: Alejandro Fernandez, Protos, Condado de Haza, Vega Sicilia, Hacienda Monasterio, Arzuaga.
Others: Civite and Guelbenzu (Navarra) and Marques de Grinon (Castilla-La-Mancha).
Tempranillo is a tempting wine of many styles and character and best of all, there is a Tempranillo to go with the food of your choice.
Next blog: My Life in Wine Episode 25
Contact me at boydvino707@gmail.com