Portugal, the narrow western part of the Iberian Peninsula, is the source of two of the most distinctive fortified wines in the world. Port and Madeira, however, could not be more different.
Madeira comes from an island that is closer to Africa than Portugal. Port is made in the wildly beautiful Douro river valley.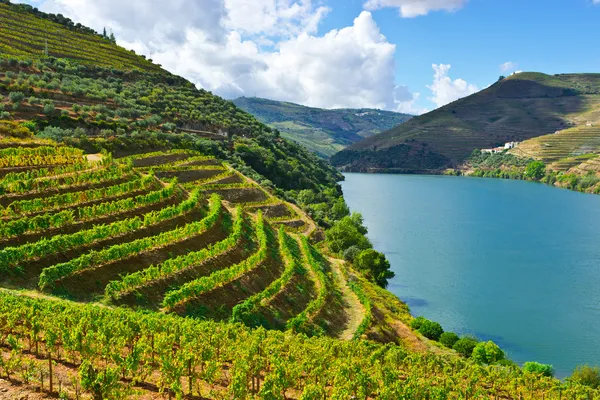 Terraced vineyards along the Douro River

Both wines are steeped in history. Port became associated with the English wine trade long ago, while Madeira was used to celebrate the independence of colonial America from the British crown.

Port takes its name from Oporto, the port city in northern Portugal, from where all Port, red and white, is shipped worldwide. The name Madeira applies to both the fortified wine and the island that is 625 miles off the Portuguese mainland and 466 miles from North Africa.
Madeira is made from a diverse variety of eight grapes, including traditional varieties such as Sercial, Verdelho, Tinta Negra, as well as American hybrids. More than 80 different grapes are authorized in Port, but research conducted in the 1970s, identified Touriga Nacional, Touriga Franca (formerly Touriga Francesa), Tinta Barroca, Tinta Roriz and Tinto Cao as the best varieties.
Traditionally, grapes for both Madeira and Port, were trod by foot in granite troughs, known as lagares. Today, most Madeira producers buy grapes and use tank fermentation, while Port houses have gone to autovinification, a tank process, using pump-over to extract maximum color from red grapes.
Lagares are still used by some Port houses in the production of vintage and specialty Ports. By 2010, there were just six exporters on the island of Madeira, down from a high of 30, and few of those remaining use the lagare.

Production of Madeira is centered around the estufa system, a method used to heat the wine, to develop an aged character. A large estufa, used for bulk Madeira circulates heated water through pipes in stainless steel tanks. A more traditional type of estufa employs wooden casks or lodge pipes (a Portuguese barrel, measuring approximately 115 gals.) stored in warm rooms and is considered a gentler method of aging the wine from six months to a year. Select vinhos de canteiro are aged in estufa rooms for 20 to 100 years.
Both wines are fortified with grape brandy, bringing the alcohol for Madeira to a alcohol strength of between 17 and 18% and for Port the strength is 19% or 20%.

Port wines are divided into cask aged and bottle aged. Wood Ports (Ruby and Tawny) are intended for immediate drinking, after aging in oak casks, then filtered and bottled. Vintage Port is aged for a short time in oak and then matured in bottle for 30 years or more. Madeira is aged in a estufa for various lengths of time, up to a century.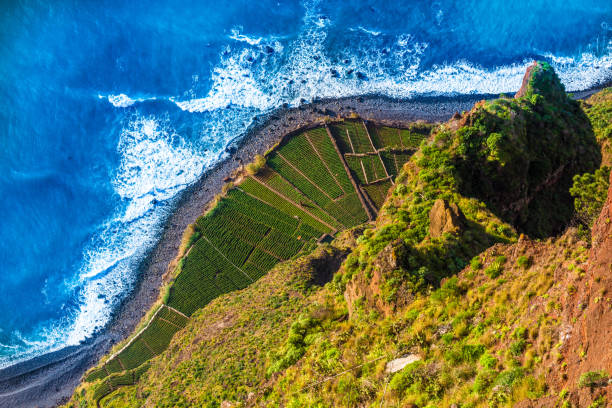 Utilizing ever suitable spot for a vineyard on Madeira

The types of Madeira are named after the principal grapes grown on the island and range from dry to sweet. Sercial is the driest followed by Verdelho, made in a medium-dry style with a smoky character. Sweeter yet is raisiny Bual and Malmsey, made from the Malvasia grape.
Due to the many types of both Port and Madeira, describing the flavors of the wines is difficult. However, in general, young Port like Ruby is fruity/grapy with a pleasant sweetness, good acidity and soft tannins. With age, Port is more complex, showing ripe plums and roasted nuts. Tawny Port is light brown in color, with a subtle fruitiness and touch of roasted nuts. Madeira is nutty with a blended fruit base and a hint of burnt caramel. The sweeter types of Madeira are rich and treacly, yet possessing impeccable balance.

Both Port and Madeira have met modern consumer demand for different products by adding "specialty" wines to their inventories. Both have vintage wines, but while Vintage Port is bottled after spending a maximum of three years in wood, Frasqueira (Vintage) Madeira must age in cask for a minimum of 20 years.
Additionally, a few exporters on the island of Madeira release a wine matured in a solera, similar to Sherry and sold as Solera Madeira. Port has no equivalent of "solera" but a number of Port lodges make a Single Quinta (vineyard or winery),Vintage and Garrafeira Port, comparable to a reserve wine.
Approximately half of the output from the Douro river valley is fortified. The other half is red table wine, many made by Port houses, such as Duas Quintas from Ramos-Pinto. North of the Douro valley is the emerging wine region known as Tras-os-Montes ("behind the mountains"). Only fortified wine is made on the island of Madeira, except for a little table wine made for local consumption.

Both wines have devoted collectors who value the wine's complexity and longevity. Madeira may hold the record for aging and is considered the longest-lived of all wine. Vintage Ports have been known to age for 30 years or more.
Try these Ports: Quinta do Noval, Ramos Pinto, Warre's, Graham's, Sandeman, Taylor, Taylor Fladgate, Fonseca, Cockburn's, Dow's. And these Madeuiras: Blandy's Henriques & Henriques, Madeira Wine Company.

Madeira and Port are two of winedom's greatest wines, yet they are known and appreciated by few. Show your appreciation today.
Next blog: Australia Series: Western Australia
Leave a comment of write me at boydvino707@gmail.com