"I cook with (sparkling) wine; sometimes I even add it to the food." With apologies to W.C. Fields

Note: This blog on sparkling wine is a few days early, to allow time for a last minute run to the store for a bottle or two of bubbly to bring in the New Year.

At the close of 1992, Queen Elizabeth, recalling the failure of three royal marriages that year, among other troublesome things, said the year was an "annus horribilis." With 2020 finally in the rear view mirror, this may be a good time to say good riddance to that "terrible year" and toast to a sparkling future in 2021.
Champagne has been the bubbly of choice to help bring in the new year probably as long as the champenois have been making their renown sparkling wine.

If shopping for your new year bubbly finds you in your local wine shop, with one eye on your favorite Champagne and the other on your shrinking budget, don't lose faith because there are other quality sparkling wines for that special occasion, such as California Sparkling wine, Prosecco and Cava.

Quality and refinement of all sparkling wine depends on many factors, none more important than the process of the second fermentation that puts the bubbles in the bottle. In Champagne that is accomplished in the same bottle in which the wine will be sold, while in less expensive processes, such as Charmat (or Cuve Close), the second fermentation is in a tank.
So, let's look at a few select sparkling wines that are not Champagne, but offer good quality for the price.
California Sparkling Wine -- Champagne producers are very touchy about the use of the name. A handful of Champagne houses have been making sparkling wine in California for years, but they understandably choose to not use the name Champagne on their wines.
An aside. The Champagne name is protected by the European Union and some other countries. The name is used (some would say abused) in other places such as California and South America. Some years ago, Champagne producers agreed that grandfathered California wineries (think Korbel) could use the name Champagne so long as it included an appellation, such as "Sonoma Champagne." What is puzzling is why the same champenois allow the use of the name Champagne without a local appellation in South America.
The problem for California wineries is that no one has ever come up with a suitable name, so the wineries rely on the brand or use a term such as "Sonoma Valley Brut." There are exceptions, such as Korbel and Gallo, that continue to use the Champagne name but with a local appellation like "California Champagne."
That position makes sense only if you think of it as a marketing decision and accept the argument that dropping Champagne from the wine name would cause buyer confusion and cost the winery lots of money.
Anyway, there are a small number of French wine producers (Taittinger, Moet, Roederer, Mumm) making bubbly in California that are the equal of most Champagne and cost less than Champagne. They use the same grapes as Champagne: Pinot Noir, Chardonnay, Pinot Meunier. The wines are fermented in the bottle and otherwise treated the same in the cellar and aged the same.
The bottom line is that the most important difference between Champagne and other sparkling wine that Champagne producers want you to know, is that the outliers, even ones made by a Champagne house, are not Champagne.
California sparkling wines to consider include Domaine Carneros, Roederer Estate, Mumm Napa Valley, Domaine Chandon, Schramsberg, Iron Horse, J Cuvee, Gloria Ferrer, Robert Hunter, Wente, Thornton.
Charmat -- The cheapest of the cheap bubbly is one where CO2 is injected into an inexpensive white or red wine and then the bottle is sealed with a plastic cork.
A better way to make budget sparkling wine is a bulk method called Charmat. The base wine, often less expensive grapes like French Colombard and Chenin Blanc, are put through a second fermentation, producing the bubbles and some complexity, in a large tank. The wine is then racked under pressure into bottles and sealed with a mushroom cork.
Cava -- Is the name for Spain's best sparkling wine. Despite a common belief that has gotten considerable mileage over the years, Cava is not an acronym, but is the Spanish word for "cellar," as in the cellar for aging sparkling wine.

In 1970, under pressure from Champagne producers not to use the name Champana (Champagne), Spanish wineries, mainly in Penedes, Catalonia, settled on Cava to identify their sparkling wine, which is made by the classic Champagne method. It's a genius name, instantly recognizable as Spanish, and far better than just sparkling wine.

The trio of local grapes that form the backbone of Cava include Xarello, Macabeo and Parellada. Following the success of Cava as a sparkling wine with Champagne overtones but a budget price, Chardonnay was added to the list of permitted grapes.
Mass marketing by large producers such as Codorniu and Freixenet, caused some disenchantment with the Cava image among some small producers. In 2014, a number of them left Cava and started using the new Penedes DO.
Cava producers to look for include Freixenet, Codorniu, Mas Codina, Miguel Pons, Juve y Camps, Segura Viudas, Naveran, Recaredo.

Prosecco -- is the popular off-dry sparkling wine from northeast Italy. Prosecco's huge international popularity vaulted the wine from IGT status to DOC in a short time, created Italy's largest DOC zone and established two towns within the zone -- Conegliano and Valdobbiane -- as DOCG.
It was a testament to the power of wine marketing, especially for a humble, lightly sweet and fruity sparkling wine.
Italy's wine classification system, known as "DOC" or Denominazione di Origine Controllata, is often compared to the French AOC, the basis for all wine classification systems. In 1963, the Italians added "e Garantita" to DOC to signify the countries highest quality wines. An important distinction is that DOCG does not mean the "best." Italian IGT, or Indicazione Geografica Tipica is the equivalent of the French vin de pays.

Prosecco is made mainly from Glera, although up to 15% of international grapes such as Chardonnay and Pinot Blanc, are allowed. The wine is tank fermented.
There is a group of small producers using other local grapes, creating unique blends, bottle fermenting rather than tank fermenting, and releasing the wines with sediment and a crown cap instead of the traditional mushroom cork.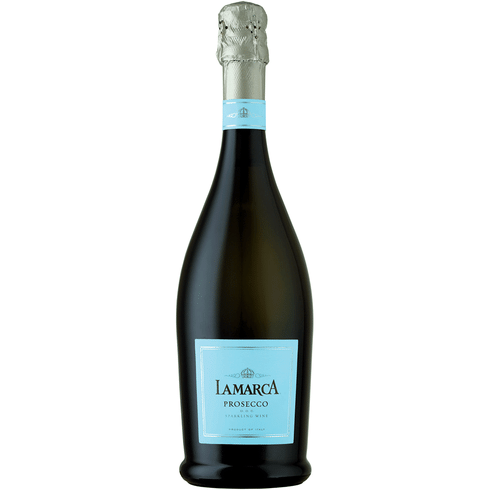 Prosecco producers worth the search: La Marca, Ruffino, Allini, Castello del Poggio, Mionetto, Zonin Cuvee, Da Luca, Bisol.
Whatever your preference for a celebratory sparkling wine, lift your glass high in a toast to a new and safer and more prosperous new year.
-o0o-
Next Blog: Nebbiolo: Italy's King of Red Wine
Let me know what you think of this blog. Email me at boydvino707@gmail.com.