"The study of astronomy is wonderfully facilitated by wine." Herman Melville
Someone once said that they would drink any wine so long as it's red. Wine drinkers that subscribe to that pronouncement agree that red is the only color for a wine, while others say such absolutism is narrow minded.
For me, the question is how can we just dismiss white wine altogether?
Perhaps lovers of French wine have the answer, by never refusing a glass of Bordeaux, Burgundy or Rhone red wine. There are times, though, when even the most hard-core red wine drinker enjoys a white wine of character and flavor.
Consider that in France, there are wine grapes grown specifically to be used as supporting varieties, to add different flavor nuances and grace notes, or perhaps give additional color or structure to a wine. Cabernet Sauvignon is the main grape of a Bordeaux red blend that is filled out by Merlot, Cabernet Franc, Petite Verdot and Malbec.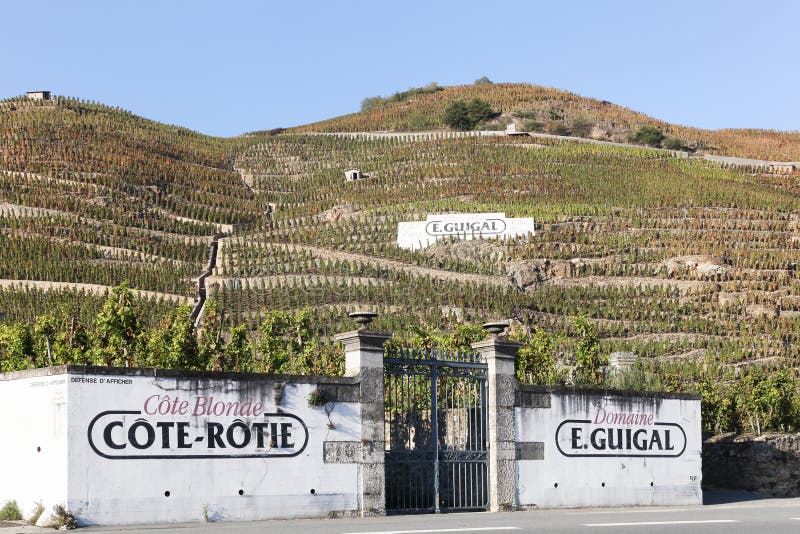 Terraced vineyards in Cote-Rotie
In the Northern Rhone trio of white grapes, Viognier is the main variety, while Marsanne and Roussanne, fill out the blends. These three wines are packed with flavor and character, but truth be told, only one of them ever established a reputation as a "rock star" varietal wine, while the other two never rose further than members of the rock band.

Viognier -- In the late 1990s, Viognier captured the attention of wine lovers, becoming a fashionable grape and wine, mainly in France, California and Australia. Like many trends in the United States, the rise of Viognier was rapid and seemingly unending. By 2012, California boasted the largest plantings of Viognier in the world, with more than 3,000 acres planted, mostly in the Central Coast. And for white wine lovers, Viognier had reached rock-star status.

Chardonnay, of course, had already commanded a major hold on white wine sales, while Sauvignon Blanc had yet to reach its full potential as a challenger to Chardonnay. So, wine drinkers began looking for something different and along came Viognier.
Viognier leaf and cluster

Compared to Chardonnay, Viognier is exotic and lush (honeysuckle, peach, apricot), especially when grown in the warmer parts of California. And unlike Riesling, a grape with some of the same exotic flavors, Viognier has a softer mouth feel, while lacking Riesling's sharper acidity.
A few words about young wine. Just after fermentation or when young wine hasn't been touched by oak or given time in glass, it's not easy to tell the difference between, say, young Chenin Blanc and young Chardonnay. The same honied and stone fruit aromas are often seen in both young wines. Then, with more time, varietal definition becomes apparent, and the differences between wines are more noticeable.

In France, Viognier is at home in the Northern Rhone, where it is the exclusive grape of Condrieu and Chateau Grillet, the latter one of the few appellations with a single owner. Since its founding in the 18th century, ownership of Ch. Grillet has been in one family. In 2011, Grillet changed owners and style; the "new" Ch. Grillet is less perfumed and more restrained than the storied Ch. Grillet.
Condrieu is a small appellation in the Northern Rhone, producing limited quantities of white wine made exclusively from Viognier. The wine has a heady aroma and full body and may be oaked or not. Guigal and Vernay are the best known producers of Condrieu.
Viognier has also taken root in Virginia, Texas, Oregon and British Columbia. But outside of California and France, Viognier has been successful in Australia, mainly the Barossa Valley where Yalumba is the Viognier specialist.

Marsanne and Roussanne -- These two Northern Rhone white grapes are mostly unknown outside the Rhone Valley, but they are valued parts of the white versions of Hermitage, Crozes-Hermitage and St. Joseph, three noted Rhone reds based on Syrah. Roussanne is also allowed in white Chateauneuf-du-Pape, the popular Southern Rhone red.
Roussanne leaf and cluster

What Roussanne adds to the white versions of the Northern Rhone reds is a distinct herbaceousness that appeals more to the senses than the herbal notes sometimes found in Cabernet Sauvignon. Some find ripe pear as well, along with a marked acidity, due mainly from under ripe grapes.
Marsanne leaf and cluster

Most of the wineries in the regions mentioned above prefer Marsanne over Roussanne in their white blends. Marsanne has a flavor profile similar to Viognier, with notes of ripe peach and honey. With age, both Marsanne and Roussanne take on a nutty character that gives the impression of barrel aging.
For reasons, probably known mostly to growers and winemakers, Marsanne is not one of the grapes in the multi-grape blend of Chateauneuf-du-Pape, but Roussanne is. Both varietals, however, are grown throughout the southern France regions of Provence and Languedoc-Roussillon.
Outside France, both Marsanne and Roussanne are grown in small quantities in Spain, Italy, Australia, Virginia and California.
Northern white grapes offer a different taste experience and an opportunity to free your taste buds from the Chardonnay lock step. If you like Viognier, or haven't tasted one yet, try Condrieu. To sample Marsanne and Roussanne, look for Hermitage Blanc, or the slightly less expensive St. Joseph Blanc.
-o0o-
Next Blog: Malbec and Tannat in South America

Got a suggestion? Email me at boydvino707@gmail.com