Recently, I read a notice about Joseph Phelps Vineyards changing ownership and it made me think of "The Colorado Wine Barons," an article I wrote in the early 1970s, about Phelps, Tom Jordan and Ray Duncan.
I was living in Colorado then and became aware of these three businessmen/vintners from a business article I read in a Denver newspaper. Wine was mentioned only mentioned wine in passing. For me, though, that mention was the germ of an idea for an article about Colorado wine for a wine magazine.
California wine was booming in the Seventies and everyone wanted a piece of it. Land in prime locations was still available and most of the wineries in Napa and Sonoma were still family owned.

With a little research, I learned that all three men had transformed their love of wine and the culture associated with it into successful wine businesses in California. Phelps, a Colorado building contractor, hired his own company to build Joseph Phelps Vineyards in the Napa Valley.
Colorado entrepreneur, Raymond Duncan, with his partner, Justin Meyer, started Silver Oak Cellars and for a short time, owned Franciscan Winery, both in the Napa Valley.
Tom Jordan, a Denver-based businessman in oil and gas exploration, and his wife Sally, established the Bordeaux inspired hilltop Jordan Vineyard & Winery outside Healdsburg, in Sonoma County.
Jordan Vineyard & Winery
Long before I met him in his offices in the Petroleum Building in downtown Denver, Tom Jordan had made his fortune exploring for oil and natural gas in Indonesia. It was only natural that this new found wealth would support the love that Tom and Sally Jordan had for fine wine and food.

The Jordans were Francophiles with a refined passion for French food and Bordeaux wine and a distinct style of "chateau architecture." In 1972, construction began on the Jordan chateau on the crest of a rolling hill outside Healdsburg, in Sonoma County.
It was, and is, a handsome pile, complete with two elegant apartments, gourmet kitchen and a grand dining room that looks out on the winery tank room. The space became legendary in Wine Country for elegant soirees attended by politicians and film stars. At one dinner, actor Danny Kaye swept off the table, jumped up and danced a fandango, or so it has been rumored.
From the first vintage in 1976, Jordan winemaker Rob Davis made only an Alexander Valley Cabernet Sauvignon and later added a Russian River Valley Chardonnay. The Jordan Cabernet Sauvignon is a Bordeaux-style blend, aged in French oak.

Davis, who retired in 2019, was mentored by legendary winemaker Andre Tchelistcheff, who developed the iconic Beaulieu Vineyard Private Reserve Cabernet Sauvignon.
Joseph Phelps Vineyard

In the early 1970s Hansel Phelps Construction Company, a Colorado based firm that specialized in large buildings, was contracted to build Souverain of Rutherford winery. Souverain, located off the Silverado Trail, later changed names and owners, to Rutherford Hill.
Joe Phelps visited the Napa Valley many times during the construction phase of Souverain and was taken by the natural beauty of the valley. Eventually he purchased land not far from Heitz Cellars in a spot known as Spring Valley, where he commissioned his construction company to build Phelps winery.
A vineyard was planted along Taplin Road and the German-born winemaker, Walter Schug was hired to make the first Phelps wines. Before Phelps was known for the Cabernet-based Insignia, Schug won acclaim for Phelps Rieslings, including one of the first late-harvest wines in the state.

Interest in Riesling tapered off while the Phelps reputation for Napa Cabernet Sauvignon, took off. Insignia, has been credited as one of the first so-called Napa cult Cabernets, as well as the impetus for Meritage, a concept that promotes Bordeaux-style blends. Phelps Vineyard was also the first winery to bottle the true Rhone Syrah, while other California wineries were making Petite Sirah.
Phelps has said that he credits Joe Heitz, Louis Martini and Robert Mondavi for teaching him about grape growing, wine making and the business of running a winery.

In 2005, Joe Phelps turned over ownership and management of the winery and vineyards to his children, to spend more time with his grandchildren and cooking, his long-time passion.

Silver Oak Cellars & Franciscan Winery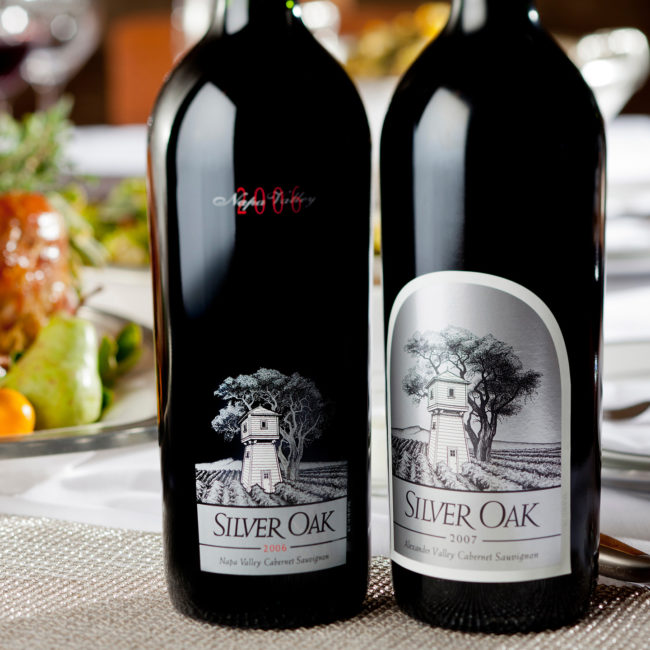 At first glance, it would seem that Ray Duncan and Justin Meyer were an unlikely pair to get into the California wine business together. But the partnership proved to be a success.

Duncan, an entrepreneur, financed the investment and Meyer, a former Christian Brother, who studied wine making under Brother Timothy, supplied the wine expertise. The partnership thrived through the ownership of two Napa wineries.
In 1972, Duncan and Meyer founded Silver Oak Cellars, focusing only on making Cabernet Sauvignon, one from Napa Valley and the other from Alexander Valley, in Sonoma County. Silver Oak maintains its reputation as one of Napa's best.
The Franciscan brand was sold to Silver Oak, keeping it in the Duncan family. Franciscan makes a Monterey Cabernet Sauvignon and a Napa red blend, Magnificat Meritage, mainly Cabernet Sauvignon, with small amounts of Malbec and Cabernet Franc.

My connection to all three men and their wines and wineries was as a writer. In the early 1970s, the most successful wine shop in downtown Denver, was Harry Hoffman. The unusual thing about Harry Hoffman, in those days, was a focus on California wine, when most other stores promoted European wines.
Among the selections at Hoffman were Phelps and Franciscan wines, even though Ray Duncan had opened a Franciscan tasting room in historic Laramer Square. Colorado law at that time required a facility operating as a winery that served wine also had to make wine on the premises. So, Duncan installed a miniature press and fermentation tank, making just enough wine to satisfy the state.
Jordan's oil exploration business included two corporate jet planes that he and some members of his crew used to move back and forth from Denver to Healdsburg. I was fortunate to have hitched a ride to Sonoma and was invited to visit the winery before the official opening and release of the first Cabernet Sauvignon.
So many things have changed in the California wine business, but Jordan Vineyard & Winery, Joseph Phelps Vineyard and Silver Oak Cellars, maintain their high-end reliability for quality wine.
Next blog: The Chardonnay Question

Leave a comment of write me at boydvino707@gmail.com