"Yarra Valley is a place of extreme beauty, of constantly changing light, of colour and mood...Once you've seen it you cannot help but love it." Writer and winemaker James Halliday describing where he lives and makes wine.
Australia's Victoria state is in the far southeast fertile corner of the country, with Melbourne as its capital. Victoria is the most densely populated and most urbanized of all the states.

Sorting out Australian geography can be confusing because there are states and territories, a mainland and an island. Victoria is the smallest of the six states on the mainland while the island state of Tasmania is the smallest. Smaller still is the Australian Capital Territory, which was established from two areas of New South Wales. The other territory is Northern Territory. Western Australia is the largest state and occupies the western third of the continent.

Melbourne and Sydney each have a population of about 3 million, although bragging rights for the most populous goes back and forth. Melbourne and Sydney are rivals in many ways, from population to sport.
An interesting thing about Australian cities is the relative size of first and second; Geelong, Victoria's second largest city has a population of only about 120,000, a fraction of Melbourne's three-plus million.
Victoria's Wine Regions

Victoria can claim at least eight major wine grapes, with Chardonnay, Pinot Noir and Cabernet Sauvignon the principal varieties. Victoria's climate is generally temperate (climates are reversed in the Southern Hemisphere), just the right conditions for cool climate grapes like Pinot Noir.

In all, there are 17 wine regions in Victoria, clustered in the southeast part of the state. Noteworthy are Yarra Valley, Mornington Peninsula (both close to Melbourne), Geelong and Pyrenees.
Yarra Valley is, by some estimations, Australia's premier area for Pinot Noir and one of the top regions for Chardonnay. In the 1980s, France's Moet & Chandon was looking for a place to make sparkling wine in Australia and settled on Yarra. The view from the Chandon tasting room is superb, as are the wines, which in my opinion, are better than the Chandon sparkling wines I've tasted in the Napa Valley and Argentina. Microclimate pockets in the Yarra are ideal for Cabernet Sauvignon, Merlot and a little Shiraz. Yarra brands to look for: Coldstream Hills, Yarra Yerring, Yering Station, DeBartoli, Mount Mary, Domaine Chandon, St. Huberts.
Geelong lies off Port Phillip Bay and is dominated by the Bellarine Peninsula. Noted for Pinot Noir, this cool climate area also makes Chardonnay and Shiraz, plus distinct long-lived Cabernet Sauvignon. Geelong's history is the history of Australian wine, as 130 years ago, the region was one of the most important in Victoria. Wines: Bannockburn, Prince Albert, Scotchmans Hill.

Mornington Peninsula; the name conjures up images for day-trippers of small wineries, trendy cafes and restaurants and beautiful sea vistas. The Peninsula, as its known, is a pleasant drive from Melbourne. Chardonnay and Pinot Pinot Noir are the leading wines, along with growing interest in Pinot Gris, Viognier and the odd Italian-style wine. Wines: Dromana Estate, T'Galant, Stonier's, Kings Creek, Port Phillip Estate.

Pyrenees is an odd name for an Australian wine region since most people associate the name with a mountain range along the French-Spanish border. And in a country where the highest peak is 7,300 feet above sea level, the Victoria Pyrenees, known locally as Blue Pyrenees, for the soft blue cast on the rolling hills. Grape growing didn't get going in the Pyrenees until the 1970s, with arrival of Taltarni, Mount Avoca and Redbank. They found Shiraz and Cabernet Sauvignon grew well in the mountain climate. Taltarni and the French firm of Remy Martin also produce sparkling wines from non-traditional varieties. Wines: Taltarni, Redbank Winery, Dalwhinnie, Blue Pyrenees Estate, Mount Avoca Vineyard, Summerfield.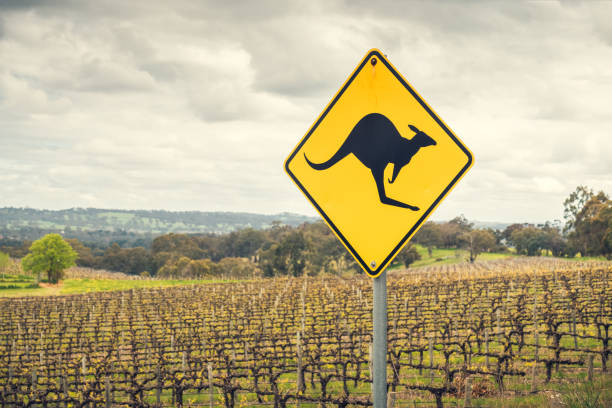 Aside. I have pleasant memories of Victoria, but among the most vivid and lasting was my time with Dominique Portet, brother of Bernard Portet of Napa's Clos du Val. We had arranged an evening visit and when I arrived, Portet came bounding out of the winery door, smiling broadly and shouting, "G'day mate." The greeting surprised me as I didn't expect to be met by a Frenchman with an Aussie accent.
By the time Portet and I had lingered over a light supper and tasting of Taltarni wines, the light was gone. The Victoria Pyrenees are a long way from anywhere and it was pitch dark. To make matters worse, when I got to the end of the lane, I couldn't remember which way to turn back on to the main road back to Avoca where I was staying the night.
There were no road signs and no other buildings to help me and I was driving on the right side of the road and you had to watch for nocturnal kangaroos.
I sat at the end of the lane for a few minutes, then figured there was a fifty-fifty chance, so I turned left. After what seemed like endless nervous kilometers, there were the first signs of Avoca. Good thing, because considering the size of Australia, I could still be driving.
Even though Cabernet Sauvignon and Shiraz dominate Australian wine, it's nice to know, especially for pinot fans, that there is a temperate region like Victoria for cool climate wines like Pinot Noir and Chardonnay.
Next blog: The Colorado Wine Barons
Leave a comment or write me at boydvino707@gmail.com