"I made wine out of raisins so I wouldn't have to wait for it to age." Steven Wright, stand up comic

In Episode 6, My Copy Editor and I were still in France, having spent a few sleepless nights in Paris at a hot and noisy hotel. The days were more pleasant, as we enjoyed a wine-infused alfresco lunch on the Champs d' Elysee with the owner of Chateau Greysac, followed the next day by an interesting and amusing visit to his chateau, in the northern Medoc, where we tasted wine from a barrel, removed in an unusual and damaging to the barrel, fashion. Then, it was south to Margaux.

One of the benefits of wine travel is seeing scenic wine regions; unfortunately, the Medoc is not one of them. The terrain is mostly flat and featureless, the monotony broken up by elegant wine estates with grand houses, set back off the road. Heading south, we passed through St. Estephe, Pauillac, St. Julien and Margaux, for a visit with Alexis Lichine at Chateau Prieure-Lichine.
When planning the European trip, I got word that Lichine was coming to Denver to speak to members of Les Amis du Vin, then a popular wine appreciation organization with national chapters of wine lovers.
Lichine's visit was an opportunity for me to interview him for my wine column in the "Rocky Mountain News." We met for the interview in his room at the downtown hotel where he was staying, early in the afternoon on the day he arrived. After the interview, I mentioned my forthcoming trip to Bordeaux and Lichine graciously extended an invitation to visit the chateau. It seemed like a casual offer, the kind that's given as a polite gesture.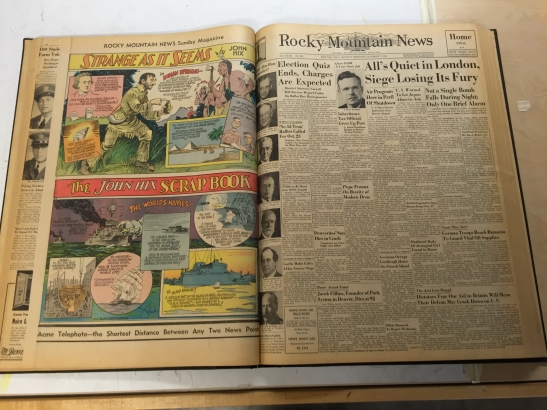 To my surprise, Lichine wrote back confirming our visit, adding that he was looking forward to seeing my Copy Editor and me. Alexis Lichine was a man of many interests, including being married to actress Arlene Dahl. Born in Russia, he spent time in America, an experience that helped define the way he did business in France. The insular Bordelaise didn't know what to make of Lichine's promotional business sense, especially when he erected a billboard ("Mon Dieu!) advertising visits to Prieure-Lichine.
We had a casual meal of steak grilled over grapevines, with a vintage or two of Prieure-Lichine, in the chateau kitchen. Steaks anywhere in Europe in the 1970s didn't hold a candle to an American steak, but food always tastes better when served (with local wine) in a special place.
After lunch, our host insisted we see the chateau, including a visit to his bedroom, which my Copy Editor and I thought was a bit unusual.
Good wine and food encourage lively conversation, and we were enjoying our visit with Alexis Lichine, but it was time for us to get on the road. There was a long cross-country drive to the Burgundy region ahead of us and we had one more stop and tasting experience in Bordeaux.Unfortunately, we never met again, as Alexis Lichine died in 1989.

The Denver-based representative of Ch. d'Arche, a Second Growth Sauternes, invited us to meet her at an inn near the Bordeaux airport, for a taste of d'Arche. I had little experience with Sauternes and found the complex wine's impeccable balance of sugar and acidity an impressive and eye-opening experience.
But what really astounded me was the combination of savory foie gras with sweet Sauternes. Although I didn't know about umami then, it was probably that taste/texture that made the marriage of sweet and savory work.
The following day, looking forward to changing wine gears from Cabernet Sauvignon to Pinot Noir, we headed east to the Burgundy region and the town of Beaune.
I had underestimated how long it would take us to drive across France, on narrow two-lane roads through open farmland. The going was frustratingly slow, because just as you hit a straight stretch and got up to speed, there was another village, or small provincial town with more narrow streets and confusing intersections where the unwary could go off in any direction.
Even more annoying, was never seeing a sign in a town, that the route you want continues down this street or that avenue. French route planners must assume that as you enter a town, somehow, without the benefit of a directional sign or two, you will, perhaps by divine provenience, emerge at the other side of town still on the same route.
Eventually, though, we did arrive in Beaune and immediately found our way to the Hotel Le Cep, our lodging for the next few days. Of course, there were no parking spaces anywhere near the entrance to the hotel. By luck, I spotted one on a side street, wedged the car in, and schlepped the bags two long blocks to the hotel. Tired and road-weary, we were happy to know the hotel had our reservation.
The desk clerk was officious, even if a bit weary looking, and we were checked in with no delay. Then, as I turned to grab our bags, the desk clerk looked sternly at me and clucked loudly, "No, no, monsieur!" Thinking I was about to take the wrong suitcases, I turned to the clerk with a questioning look, and saw her point behind me.
There stood a tiny old woman, dressed in black, with arms like twigs, about to grip our suitcase handles. I started to protest, but she was already heading to the staircase. "This is not going to work," I whispered to my Copy Editor, but the "bell lady" was already up one flight of stairs and down the hallway, lights switching on mysteriously as she trundled along. It was tiring just watching her struggle with the heavy bags.
We thought the Hotel Le Cep was extravagantly expensive in 1979, but when I was last in Beaune, I checked out the hotel and was glad that I was staying elsewhere. No worries, though, we were anticipating our appointment at Maison Joseph Drouhin.
Late morning, the following day, we arrived at the winery and were met by a young woman who showed us through a spacious area full of large oak fermentation tanks and then down a narrow spiral staircase to the barrel cellar. well-worn flagstone formed a smooth pathway between the barrel racks, allowing for the easy movement of hand trucks hauling oak barrels. "The Drouhin children also use these pathways for roller skating," explained our guide. "It's better for the roller skates than outside on the bumpy cobblestone street."

At the end of a long pathway was another spiral staircase. It turns out, during inclement weather, the pathways provided a convenient route for the Drouhins to move from the office building to their residence. The Drouhins were waiting for us at a table set up for lunch in the garden. Joining us were two of the Drouhin children, including a young Veronique, who would go on to be winemaker at Domaine Drouhin Oregon.
It would have been easy to spend the afternoon sipping Drouhin Beaune Clos de Mouches and enjoying some pleasant conversation, but business awaited the Drouhins and my Copy Editor and I had a long drive ahead of us the next day, to Spain.
In Episode 8, November 22, 2020, our travels take us to Barcelona, a side trip to Torres in Vilafranca del Penedes, then a long drive back into France and a stop to soak up the charm of Alsace before crossing the Rhine into Germany.

-o0o-
Next blog: Spanish white wines, Part One
Comments? Suggestions? Contact me at boydvino707@gmail.com