"The smack of California earth shall linger on the palate of your grandson." Robert Louis Stevenson

The history of California Pinot Noir is spread over a number of decades, but only recently has the wine's popularity caught up with its impressive quality.
In 1952, former ambassador James Zellerbach, planted a vineyard in the hills north of the town of Sonoma. Zellerbach's goal was to make a Hanzell Pinot Noir in Sonoma county like those he had tasted in Burgundy's Cote d'Or.
According to Leon Adams in "The Wines of America," Zellerbach never knew (he died in 1963) that his Hanzell wines changed the way vintners thought about the way California red wine tasted. According to Adams, Hanzell wines "would cause scores of America's leading vintners to make an important change in the flavor of their wines."
That "important change" was Zellerbach's introduction of French oak to California wine making, specifically for Chardonnay and Pinot Noir. Before the introduction of French oak, California winemakers mostly used American white oak.

There were, of course, other dedicated folks who believed, in the face of consumer fervor for Cabernet Sauvignon, that there was a place in the Golden State for Pinot Noir. Those that shared Zellerbach's passion for red Burgundy included: Chalone, Navarro, Beaulieu Vineyard and Sanford and Benedict.
Aside --There is a story that Andre Tchelistcheff, long-time winemaker for Beaulieu Vineyard, admitted once that Pinot Noir was his favorite red wine, even though he became known for B-V Private Reserve, one of Napa Valley's iconic Cabernet Sauvignons.

The pinot advocates believed that to make Pinot Noir in California that shared some of the similarities to Burgundy, a cool climate was needed.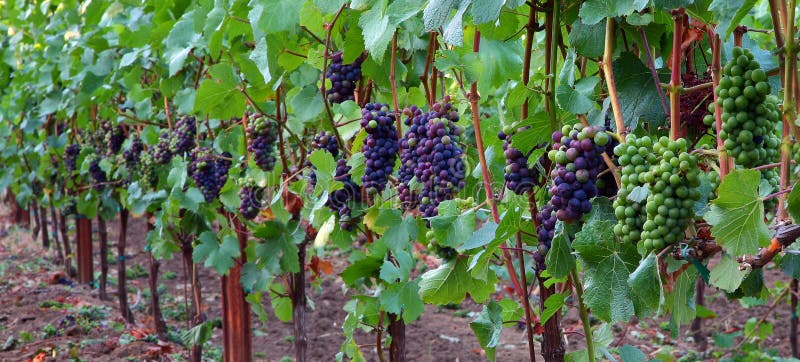 Pinot Noir clusters all in a row

In many ways, Pinot Noir is the antithesis of Cabernet Sauvignon. Pinot Noir demands far more of the grower than does Cabernet Sauvignon. Pinot Noir has a sensitivity to soils, while Cabernet will grow almost anywhere. Pinot Noir is notoriously difficult in the winery, whereas Cabernet Sauvignon is relatively easy to ferment. And, an inexpensive Cabernet still tastes like Cabernet Sauvignon, while an inexpensive Pinot Noir is just another red wine.
And then there's this: Cabernet Sauvignon has a more defined and angular structure, while Pinot Noir tends to be more sensual, softer and rounder. Think of Cabernet Sauvignon as a square and Pinot Noir a circle.
This diversity is one of the telling features that separates California Pinot Noir, from Oregon and the few scattered places around the country where growers and winemakers strive to make a distinguished wine. It should be noted that identifying a specific location or terroir is no more noticeable than in Burgundy where red wine is identified as Burgundy and not Pinot Noir.
Whatever the reasons why people are attracted to Pinot Noir, the fact is that an impressive number of California winemakers consider making Pinot Noir as the attainment of the wine Holy Grail. They may be making world-beating Cabernet Sauvignon, but what they want is the challenge of making a memorable Pinot Noir and the satisfaction of what has become known as "pinot envy."
Where Pinot Grows Best
Like many things about Pinot Noir, summing up its flavor in a few words is an elusive exercise. The traditional descriptors like strawberry, black cherry, boiled beets, spice are only general, while leather, mushrooms and gamy fit more with aged Pinot Noir. Traditionally, memorable California Pinot Noir came mainly from coastal vineyards, or vineyards near a body of water, helping to smooth the edges of climate extremes.
The following general summary, alphabetical from north to south, may help to distinguish the pinots from one California region to another:
Anderson Valley -- The Anderson Valley, between Booneville and the Pacific Ocean, has nurtured a low-key reputation for excellent Pinot Noir. The maritime influence gives the wines bright raspberry flavors with floral accents. There are 60 wineries in this rural valley, including Husch, Goldeneye and Roederer Estate sparkling wine. Every May, the vintners hold a Pinot Noir Festival in the Anderson Valley.

Carneros -- The broad Carneros appellation lies across the southern ends of Napa and Sonoma counties, bordering San Pablo Bay, the northern part of the larger San Francisco Bay. The cooling marine influence allows Pinot Noir, for still and sparkling wines, to yield ripe fruit, with a spicy accent and crisp acidity. A few producers: Etude, Saintsbury, Donum Estate and Domaine Carneros.
Central Coast -- This is a catchall appellation that stretches from San Francisco to Los Angeles and includes San Benito, Paso Robles, San Luis Obispo, and Santa Lucia Highlands in Monterey County. With the possible exception of Paso Robles, there are noteworthy Pinot Noirs from the other areas, such as Calera (San Benito) and Belle Glos (Santa Lucia Highlands).

Russian River Valley -- The wine part of the land where the river runs through it in northern Sonoma County, stretches from west of Healdsburg to where the river empties into the Pacific Ocean. Pinots are known for silky textures, soft tannins, dark cherry and a trace of minerals. A few producers: Williams Selyem, Hartford Court, David Ramey, Gary Farrell.
Santa Barbara County -- Technically within the Central Coast AVA, the southern Santa Barbara County encompasses Santa Maria Valley, Santa Rita Hill and Santa Ynez Valley AVAs. Pinots range from lean and peppery to full and berry-rich. A few producers: Au Bon Climat (Santa Maria Valley), Sea Smoke (Santa Rita Hills), Gainey Vineyard (Santa Ynez Valley).

Sonoma Coast -- This vast and confusing appellation stretches for hundreds of miles along Sonoma's Pacific coast and includes the Fort Ross-Seaview appellation. Although the Sonoma Coast AVA includes some inland areas, many of the vineyard best sites are among the coolest in the state. The pinots are known for bracing acidity, deep berry flavors and silky tannins. Producers: Fort Ross Vineyards, Flowers, Hartford Family, La Crema.
And finally, two end notes:

Caveat emptor: Wildfires this year have done considerable damage to vineyards and wineries, especially in Northern California. Some wineries lost grapes in the fires, some lost case goods, others saw damage to their buildings. The full impact of smoke on grapes and wines is still unknown. The prospect of less wine, though, due to smoke-taint, will obviously put pressure on present stocks, undoubtedly affecting bottle prices.
The Holiday Bird...With Thanksgiving just weeks away, it's time to think of what wine(s) to serve with the holiday meal. Here's a suggestion from the Petaluma Gap Alliance, a winery group in Sonoma County, that polled their members who decided that Pinot Noir (from the Petaluma Gap, hopefully) is the ideal choice with the traditional Thanksgiving feast. I wholeheartedly agree.
-o0o-

Next blog: "My Life in Wine" Episode 7
Comments? Suggestions? Email me at boydvino707@gmail.com