"It's a naive domestic Burgundy without any breeding, but I believe you'll be amused by its presumption." James Thurber, in The New Yorker

In Episode 8, my Copy Editor and I were nearing the end of our 1979 European trip, with a visit to Barcelona and the Torres winery. We had one more stop, in Alsace, then back to Frankfurt and the long flight to Colorado.
Ever since I had first tasted an Alsace Gewurztraminer, my wine-travel goal was to one day visit Alsace and taste as many Gewurztraminers as I could. What I didn't know, as we headed north out of Spain through southern France, was how many Gewurztraminers were waiting for me.
Gewurztraminer is an intriguing wine that you either like or loath. The scent is high-tone like a heady perfume: rub some rose petals between your fingers and inhale the spicy notes, noticing the exotic back note of lychee. One taste and your hooked on the texture and freshness of roses, lychee, spice and citrus. For me, it's hard to deny Gewurztraminer, even if I stumble pronouncing the name.
In German, Gewurztraminer (Geh-vairtz-tra-mee-ner) translates to "spicy traminer," since Traminer is the grape, although nobody calls it that anymore. Yet, some studies maintain they are two different grapes, with only slight variations.

A California aside. Gewurztraminer was once more popular as a varietal in California than it is today. A lot of the wines then were ponderous, often with too much residual sweetness. Louis Martini was one believer of the two-grape theory for Gewurztraminer. In fact, the Napa winery once made both a Traminer and a Gewurztraminer and on the front label of the Gewurztraminer, there was a space between Gewurz and Traminer to signify the difference. Eventually Martini yielded to the popular trend labeling the wine Gewurztraminer.

The charming region of Alsace is wedged between the Vosges mountains and the Rhine river, in eastern France. On the opposite side of the Rhine is Germany and the fabled Black Forest. Alsace is one place in France you should visit, especially if you like white wine.
But there's more to Alsace than wine. To say that Alsace is quaint would be an understatement. You can wander the cobbled streets of Medieval walled villages, like Riquewihr and the nearby Ribeauville, considered one of the oldest medieval towns in Alsace. The charm of these medieval villages can be seen in the preserved half-timbered houses and wine shops, narrow winding streets and multi-lingual people slipping from French, to German to English when the need arises.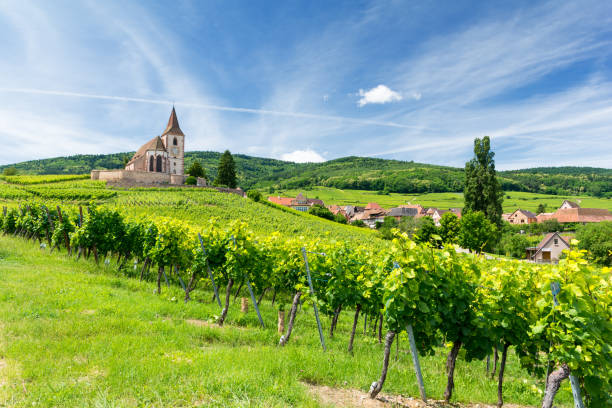 Saint James church in Hunawihr

A short side trip from Ribeauville to the hamlet of Hunawihr is worth a visit to see the fortified church of St. James surrounded by a 13th century wall. Behind the church is a cemetery with the remains of village residents who fought in both WWI and WWII. When we visited the cemetery in 1979, it was surprising to see enamel medallions marking the graves of men who served in both the German army and the French resistance during World War II.

For a mono-lingual American, watching the Alsatians deftly ease from French to German to accommodate German wine shop customers who cross the Rhine to load the trunks of their Mercedes with drier Rieslings than what they might find at home. And being multi-lingual helps when dealing with the thousands of tourists who put a strain on the fragile quaintness of Alsace.
A person can only poke around so much before developing a thirst for a glass of cool Alsace wine, like Riesling and Gewurztraminer, the region's leading white wines. And there's Pinot Gris (once known as Tokay Pinot Gris), two kinds of Muscat, Sylvaner and Pinot Blanc (also called Klevner).
The most common Alsace wine is Edelzwicker (German for "noble mixture"), available in most tasting rooms and restaurants. Edelzwicker is a pleasant blend of Pinot Blanc, Chasselas and Auxerrois.
There are scores of wineries to visit in Alsace, but we concentrated on Hugel and Trimbach, the two most widely available then in Colorado and both are major brands today.
Expanding a winery at a site protected as historic means structures cannot be removed or altered without permission from the historic commission. So creativity and design innovation must be applied to any changes and additions in winery operation. During our visit to Hugel & Fils, in Riquewihr, Etienne Hugel showed us a few special stainless steel tanks that were designed to tuck into a niche in an ancient wall and a circuitous network of stainless steel pipes, between two buildings, that had to bypass a protected building. As if wine making doesn't offer enough challenges.
An astonishing remembrance -- Later at lunch, Etienne asked me what I did in my leisure time and I mentioned that I had recently taken up baking bread. To my amazement, he said, "How would you like to be our baker here in Riquewihr? The baker has retired and we need someone to take over."
I couldn't think of anything to say, so I stupidly blurted out. "Are you serious!"
"Yes, you like to bake bread and we need a bread baker, so the job is yours," he replied without missing a beat.
It was one of the strangest things that ever happened to me, but obviously I turned him down...I don't even speak French!
Hugel wines are full and flavorful. The standard Riesling and Gewurztraminer are packed with true varietal flavors, and I was especially impressed with the Hugel Gewurztraminer Vendange Tardive, a supple late harvest wine with just enough natural sweetness to make the wine a treat on its own or with a light dessert.
A few miles to the north we stopped in for a scheduled visit with Hubert Trimbach at his family winery in Ribeauville. Trimbach wines are known for their pure varietal flavors and impeccable balance. In the late 1970s and early '80s, Hubert traveled a great deal, especially in the United States, so it was lucky to catch him at home in Alsace.

We spent a pleasant afternoon at Trimbach, tasting the wines and learning more about the history of Alsace. But my Copy Editor had a bladder infection and needed to see a doctor. Hubert put us in touch with a young doctor in Ribeauville and we said our goodbyes.
It was early evening and the doctor's waiting room was empty except for a nun who sat patiently with her hands crossed in her lap. Her patience was tested further when the doctor motioned to us to follow him to the treatment room. He completed his examination, proudly using his limited English, wrote a prescription and we departed without paying a single franc (it was a pre-Euro time).
The medicine helped so the following morning, after breakfast, we climbed in to our rental car and headed back to Germany and the flight home.

In Episode 10, we arrive back in Colorado to a big surprise. The next couple of months were busy with a flight to San Francisco, resulting in a permanent move to San Diego and the beginning of the next exciting chapter of My Life in Wine.

-o0o-
Next blog: Sparkling options for the New Year
Is there a wine or grape you are curious about? Email me at boydvino707@gmail.com