What Italian wine is produced in the millions of bottles annually and is made in the largest DOC in the country? If you said Pinot Grigio, you're not even close.
Prosecco, the wildly popular sparkling wine from northeastern Italy, comes from an area that extends from Vicenza to Trieste, a vast region that qualifies it as Italy's largest wine region by far.
No other Italian wine, since Chianti, has captured the public's interest like Prosecco. And its popularity continues to climb.

Making Prosecco

Prosecco is a blend of grapes, with Glera, a synonym for Prosecco (the grape not the wine) at least 85% of the blend. The remaining percentage is other local varieties and international grapes like Chardonnay, Pinot Noir and Pinot Grigio.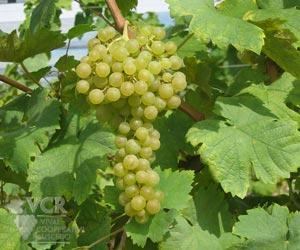 Glera cluster
Choosing the name Glera is an example of government bureaucracy that seems to be unique to the Europeans, and especially the Italians who are fond of a special brand of laissez faire government.

Once known as "the Prosecco grape," the name was changed in 2009 to Glera. Why? European appellation rules state that a grape name cannot be an appellation name and Italian law says it cannot become a DOC for the same reason. Prosecco producers needed the name change to obtain expanded status of the area and thus qualify for a DOC.
An aside: The system of Italian wine laws, established in 1963, is known as DOC (Denominazione di Origine Controllata,) popularly called "Doc." The DOC system is in line with EU regulations and the AOC (Appellation d'Origine Controlee) system of France. DOCG (Garantia) is for Italy's highest quality wines. Portugal also uses DOC (Denominacao de Origem Controlada) for their system of wine laws.
Prosecco Background
Prosecco is named for a village in Friuli and the wine is made in the regions of Friuli-Venezia-Giulia and Veneto. Sparkling wine, in one form or another, has been made in the DOC area for more than 400 years.

The Prosecco classic zone includes smaller areas of higher quality that qualify for DOCG status. These include the areas around the hillside villages of Coneglione and Valdobbiadene. Smaller yet is an appellation near the town of Aslo, producing Prosecco Also Superiore DOCG.

Grapes grown on the hillsides are riper, qualifying for the higher DOCG status. The downside, according to some, is because of the steep slopes, mechanical harvesting is not possible. The upside, however, is hand-picked grapes are usually healthier and advocates of hand picking say, make better wine.
Champagne, the bubbly generally thought to be the ne plus ultra of sparkling wine, is made by the meticulous traditional or classic method of developing the bubbles in the bottle. Prosecco, is made by a tank method (autoclave in Italian), where bubbles are developed in a closed sealed tank.
Prosecco Style
The Glera grape makes a wine with medium golden color and a sweet fruity aroma of peach, apple and honeysuckle. Blending Glera with other varieties, namely Chardonnay and Pinot Grigio, tempers the fruity aspects of Glera. Inexpensive Prosecco, made from high-yield grapes, tend to be more neutral requiring a dosage of sweet reserved juice.
The most common Prosecco is Extra-Dry, 1.2% to 1.7% residual sugar. A drier Brut style (up to1.2% RS) is gaining in popularity. Also there is a sweet Demi-Sec with sweetness up top 5%. Prosecco is bottled as Spumante (sparkling) or Frizzante (semi-sparkling).
If you're thinking of adding a sparkling wine to your holiday wine list, pop a cork on a bottle of Prosecco.
Salute!

Next entry: Sonoma Series: Russian River Valley & Green Valley
Contact me at boydvino707@gmail.com