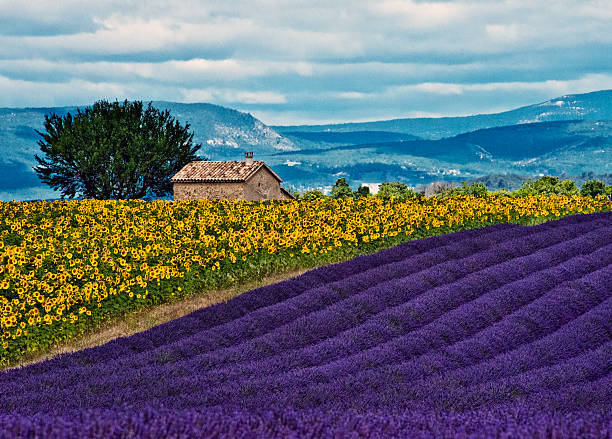 Sunflowers and lavender

Could it be that the combination of Provence olive oil, garlic and rose wine is what encouraged someone to think up the phrase,"a pair made in Heaven?"
Maybe. But there are many other French regions with local foods that taste best with local wines, such as red Burgundy with game birds or Sauternes with Roquefort cheese.

Provence is a region in southeast France, sprawling along the Mediterranean Sea, close to the Italian frontier. In this warm sunny climate, light meals, based on seafood and fresh produce, are a given.

Chic tourists admit that there is something magical about seaside towns like St-Tropez and the countryside with its vast fields of blue-purple lavender.
Serious wine lovers, who also may be wine tourists, find magic in the vinous treasures of Cote de Provence and the more inland smaller region of Coteaux d'Aix en Provence. There is something about the simple Provence cuisine, of these two places, that goes perfectly with dry, fruity pink wines.
Provence Grapes
For years, Carignan (Carignane) was the backbone of the industry, but the new generation of winemakers favor Grenache, Cinsaut, Syrah and Mourvedre, for pink and red wine. Many wine drinkers think Provence roses mean light orange-pink color, fragrant aroma and refreshing fruit of Grenache.
Winemakers are an observant lot and they see what's working and selling in the all-important international market. Provence wineries, especially those with coastal vineyards know that growing conditions on Corsica are very similar and that the Vermentino grapes does well there, so why not Provence? Today, Vermentino, Semillon and the humble Ugni Blanc are responsible for Provence whites.
Provence Winemaking
The essence of pink wines is freshness, achieved by cold fermentation and no contact with wood. Traditionally, A common way to achieve freshness is to ferment in stainless steel tanks with a refrigerant jacket. The process is slow and the cold temperatures maintain fruit freshness and varietal character.
Alternatively, a red winemaking technique known as saignee (French for "bled") produces a rose wine by "bleeding" a small amount of free-run juice from a red variety such as Syrah. Saignee is used almost exclusively with red grapes.
Provence Wines
Nearly all of the production in Cote de Provence and Coteaux d'Aix en Provence is devoted to making pink wine, usually from Grenache and Cinsaut, an ideal match with local fish and shellfish, seasoned with garlic and fresh herbs and sauteed in olive oil. Here's what to look for from these two varieties: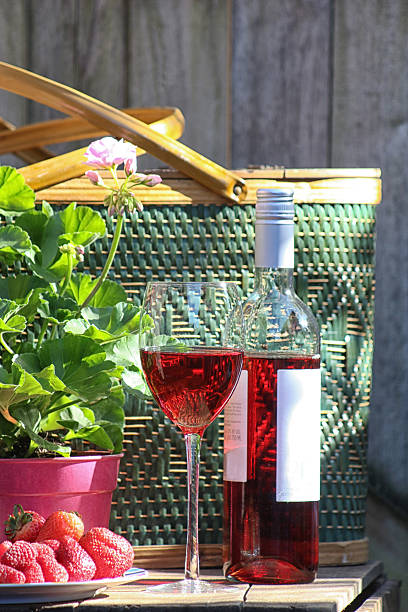 Grenache is known in Spain as Garnacha and it is likely that Spain is the grape's original home. The distinguishing feature of Grenache rose is strawberries, sometimes with a hint of ginger and honey. I especially GGrenache rose with vegetarian dishes.

Cinsaut is rarely bottled as a varietal, as most of it is used in blends. More cherry fruit than strawberries, Cinsaut goes with Grenache, giving the blend perfume and a pleasing suppleness.

About 15% of the Provence production is now in red wine, mostly from Grenache, Syrah and Mourvedre. These popular red grapes are grown along the French Riviera, from Provence in the east to Roussillon in the west and the border with Spain.
With summer finally here, stores will be stocked with light, fresh and fruity Provence roses, much of it made by large cooperatives, priced from $14 to $22.
Here are a half dozen names to look for: Domaine la Colombe, Peyrassol, Les Maitres Vignerons, Chateau les Mesclances, Chateau Miraval, Commanderie de la Bargemone. Factoid: Ch. Miraval is where Pink Floyd recorded "The Wall" in 1979.
Next blog: Spanish Light Reds
Leave a comment or write me at boydvino707@gmail.com