At one time, the history of Italian wine making recorded white wine as being far different than it is today. The wines of antiquity, written about in the 1st century BC by Pliny the Elder, were so dark from oxidation that they resembled red wine more than white.
In Natural History, Pliny described Opimian, a popular white wine of the time, as "reduced to a kind of bitter honey but still recognizably wine." Opimian was not the only early Italian white wine. Falernian and Surrentinum were also popular, although the Emperor Tiberius said the latter was merely "high quality vinegar."
Major changes in the Italian appetite for white wine developed over the centuries. Even so, interest in red wine began to dominate, spurred on by the popularity of grapes like Sangiovese, Barbera and Primitivo and the international interest in Cabernet Sauvignon, Merlot and Pinot Noir.

A major change took place in 1861 with the unification of Italy. Vineyard planting took off as the economy boomed and white wines mounted a comeback. Today, there is hardly a corner of Italy where you won't find at least one white wine.
There are about 1,000 grapevines recorded in Italy, with maybe half spread out in the 20 regions, from Lombardy to Calabria, plus Sicily and Sardinia. What follows, then, is a list, in alphabetical order, of 12 white grapes that have been responsible for elevating Italian white wines to where they are today in the international market.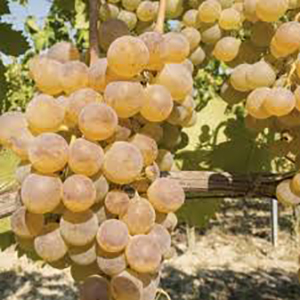 Fully ripe Cortese grapes
Cortese is a popular white grape grown in southeast Piedmont, known mostly for Gavi (or Cortese de Gavi). Aromatic with bright acidity and a hint of mineral, Cortese is a white standout in a region known mainly for red wines.
Falanghina is common in the area around Naples. This aromatic white grape is featured in the wine of Campania. Best on its own, without oak, Falanghina is a fragrant white that may have been the base for Falerian, perhaps the best known wine of the Roman era.

Garganega is included on this list because of it's important role in Soave. Planted widely in Veneto, Garganega may make up to 100% in Soave and does best in the Classico zone where it ripens to show lemon and almond flavors. Garganega is also grown in Friuli. Umbria and Australia.

Greco: There are at least four varieties grown in Italy called Greco, with the best known one called Greco di Tufo, for the town of Tufo in Campania, which in turn gets its name from tufa, the volanic soil of the area. Greco owes its heritage to the Greeks and the culture they spread throughout southern Italy. Greco di Tufo is a potent full-bodied white, however the Greco grape is not the same as Greco Bianco, native to Calabria.
Grechetto, along with Trebbiano Toscano and Verdello, makes up the Umbrian white wine classic Orvieto and is used in the wines of Torgiano. Todi, an Umbrian hillside town, near the touristy Assisi, gives its name to Grechetto di Todi, another name for the ancient Pignoletto grape, widely grown in Umbria.
Aside: Having trouble keeping up with Italian grape names? Here's more confusion. Besides Pignoletto, there are at least three other varieties that start with "pig": Pignatello, a red Sicilian grape; Pignola Valtellinese, a red Grape from Valtellina that may be related to Nebbiolo; Pignolo, a red variety from Friuli.

Grillo is an important variety in Sicily and was once valued as a base wine for Marsala, the island's noted fortified wine. Today, Grillo is popular as a stylized full-bodied dry white wine.

Malvasia, the name, has various variations. Malvasia is used to identify at least 20 different grapes, grown through the length and breadth of Italy. For that reason, I have included Malvasia in my list of important Italian white grapes and the associated wines.
The Italian dessert wine, Malvasia delle Lipari, is named for an island off the north coast of Sicily. Malvasia is also used in Orvieto, blended with Trebbiano. And Madeira Malmsey, one of the world's distinguished dessert wines, is derived from Malvasia. Originally, Malmsey was made from Malvasia, but today the name just identifies a style.
Moscato Bianco is the Italian name for Muscat, of which, like Malvasia, there are many subvarieties, cultivated throughout Italy. The best known is Moscato di Canelli, the grape of Asti Spumante sparkling wine, produced in Piedmont. Another noted Moscato is Moscato di Pantelleria, a small island between Sicily and Tunesia.

Pinot Grigio probably owes its popularity to name recognition more than wine quality. In the early part of the 21st century, the worldwide wine buying public decided to adopt the name Pinot Grigio over Pinot Gris, the grape's French name. Made today mostly in Veneto, Pinot Grigio is mainly a neutral white wine. Of more interest is Oregon Pinot Gris.

Riesling is a grape of different names in northern Italy. In Alto Adige it is called Riesling while in Friuli the name changes to Riesling Renano. Italian Riesling has a delicacy and fruitiness not seen in other Italian white wines. Riesling Italico, a grape often confused with Riesling Renano, is not the true Riesling of Germany, but nevertheless produces crisp aromatic wines.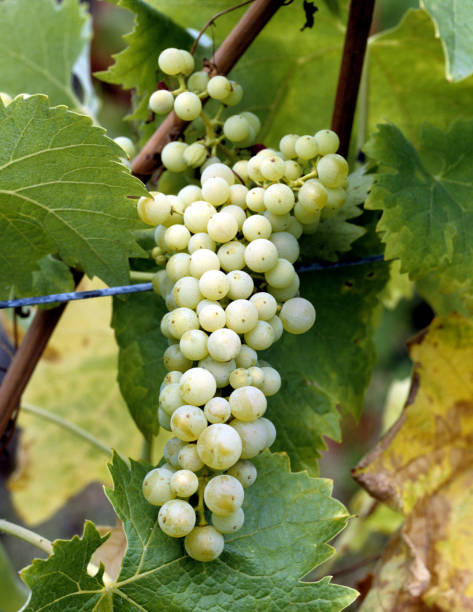 Trebbiano cluster
Trebbiano holds the title for being one of the most widely planted white wine grapes in Italy. There are at least six different Trebbiano grapes and dozens of other grapes that incorporate Trebbiano as part of the name, such as Trebbiano di Soave. However, Trebbiano Toscano is the best known and most widely planted throughout Italy, with the exception of the colder north. Trebbiano Toscano is so popular that it is a part of Soave, Orvieto, Verdicchio and Frascati among other wines. Trebbiano is known as Ugni Blanc in France.

Vermentino, the name rolls off the tongue...vair-men-tee-no! Fresh, crisp and fruity, Vermentino produces the DOC Cinqueterre wine of Liguria, as well as the pale and crisp Sardinian white. A little Vermentino is grown in other Mediterranean locations such as Corsica and Malta.
It is estimated that Italy has about 2 million acres of wine grapes, with many hundreds of indigenous varieties, up and down the length of the country, and the islands. Take your pick, but make your next white wine and Italian white.
Next blog: Australia Series: South Australia
Leave a comment or write me at boydvino707@gmail.com