The series "My Life in Wine," ended with Episode 30, on May 27, 2022. MLIW was a brief glimpse at the years I spent writing about wine, roughly from the late 1960s to the early 2000s, not including this on going blog.
Starting with this survey of South Australia, I'll post a series of profiles every three weeks. The remainder of the Australia Series will include the wine regions of Victoria, New South Wales, Western Australia and others. In the future, look for series on Germany, Chile, France, and other countries.
"May all your trails be crooked, winding, lonesome, dangerous, leading to the most amazing view...where something strange and more beautiful and more full of wonder than your deepest dreams awaits you." -- Edward Abbey, American author and environmental activist

South Australia

I would like to think that Abbey was musing of Australia when he wrote those words about traveling and discovering new vistas and experiences. Australia is all those things - crooked, winding, lonesome, dangerous, strange, beautiful and full of wonder.
Australia is one nation within a continent, composed of the mainland and Tasmania, about the size of the lower 48 U.S. states. Australia's more temperate coastal areas are where most of the people live and wine grapes grow. The interior is mostly a barren desert.
There are six states, two territories (Northern Territory and Australian Capital Territory). Western Australia is the largest state and Tasmania the smallest. Except for Northern Territory, all states and the ACT produce wine.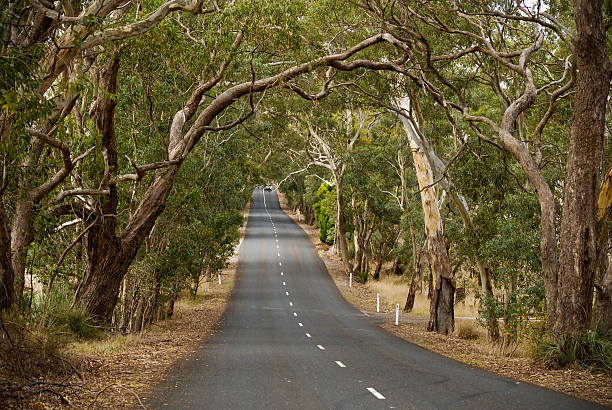 The gum tree lined road to South Australia

South Australia (SA) is the third largest state, located in the central part of the southern coastline, roughly where Texas is located in the United States. SA is sparsely populated with a Mediterranean climate, ideal for wheat and wine.
Main Grapes/Wines: Cabernet Sauvignon, Chardonnay, Riesling, Semillon, Shiraz
Main Sub-Regions: Adelaide Hills, Barossa Valley, Claire Valley, Coonawarra, Eden Valley, McLaren Vale, Padthaway, Wrattonbully. All are gathered in the far south of SA, drawing marine infuence from the Southern Ocean.

Barossa Valley, often called the "Napa Valley of Australia," is the premier wine region of SA and perhaps of all Australia, noted for its Cabernet Sauvignon and Shiraz (Syrah). The name is pronounced (Ba-ross-ah)...Wineries: Penfolds, St. Hallett, Grant Burge, Rockford, Peter Lehmann, Hill-Smith Estate.

McLaren Vale, located south of Adelaide, may be considered the second most important wine area, although the same argument can be made for Claire and Coonawarra...Wineries: d'Arenberg, Hardy's Chateau Reynella, Geoff Merrill, Wirra Wirra, Andrew Garrett.

Claire Valley, a gently rolling enclave near Adelaide, produces noteworthy Riesling and Cabernet Sauvignon. Steely Claire Riesling is dry, crisp and fresh, with traces of tropical fruit. The Cabernets are full-bodied and dense with concentrated flavors...Wineries: Jim Barry, Jeff Grosset, Knappstein Wines, Leasingham.

Coonawarra is, arguably, Australia's great red wine region. The famed terra rossa soils of the region, give Cabernet Sauvignion and Shiraz their depth, concentrated berry flavors and firm tannins...Wineries: Wynns, Penley Estate, Katnook and Rouge Homme.

Adelaide Hills sub-region, as the name implies, is close to Adelaide, the capital and largest city in South Australia. White wine, mainly Chardonnay and Sauvignon Blanc are stand outs. Adelaide Hills Pinot Noir is on a par with Pinots of Victoria and Tasmania...Wineries: Petaluma, Smith and Shaw, Lenswood, Geoff Weaver.

Padthaway, like Coonawarra, is large vineyard region, on the Limestone Coast, south of Adelaide. Gentle slopes are planted mainly to Chardonnay, Shiraz and Cabernet Sauvignon. Wineries: Lindemans, Hardy's, Orlando.

Eden Valley is known for its excellent Riesling, but this hilly country also is reknowned for Henschke's Hill of Grace and Mount Edelstone Shiraz. Parts of Eden Valley are cooler than the Barossa. Wineries: Henschke, Pewsey Vale Heggies, Hill-Smith Estate.

Wrattonbully, located north of Coonawarra, is one of the newer wine areas in SA. Drawing its strength from limestone-based soil, Wrattonbully is good red wine country. Wineries: Hollick, Pepper Tree, Yalumba, Terre a Terre.
South Australia hits the mark for Australian wine, in variety and quality, with big hitters like Barossa Shiraz, Coonawarra Cabernet Sauvignon and Eden Valley and Clare Riesling. Try one or all today.

Next blog: Provence Roses
Leave a commment or write me at boydvino707@gmail.com