"I think its fair to say that New Zealand Sauvignon Blanc changed the wine world by changing our ideas of what wine could be like, just as the Chardonnays of California and Australia did." Oz Clarke, English wine writer

Consumer tastes have changed since Clarke made that claim, prompting me to ask: Is Marlborough (New Zealand) Sauvignon Blanc an anomaly?
In the early 1980s, when New Zealand Sauvignon Blanc hit U.S. wine shelves with a loud bang, the accepted standard for dry Sauvignon Blanc was either Bordeaux or the Loire Valley.
California had only a passing interest with Sauvignon Blanc then, until Robert Mondavi released his Fume Blanc, a clever take on Loire Pouilly Blanc Fume. The story goes that Mondavi Sauvignon Blanc wasn't selling, but when Mondavi changed the name to Fume Blanc, the wine flew off the shelves.
Aside: I've always been puzzled with the part of that story where sales went up after the name change. Most Americans are mono-lingual and have an aversion for foreign words and names, especially French. Fume Blanc is no easier to pronounce for Americans than Sauvignon Blanc, so why would the new name translate to increased sales? A mote point, I guess, since Fume Blanc helped American wine drinkers discover a "new" white wine.

Interest in California Sauvignon Blanc grew slowly, post Mondavi, because consumers didn't know what to make of this white wine that didn't taste like Chardonnay, Chenin Blanc, Grey Riesling, or French Colombard.
Then, New Zealand entered the wine scene.

Planting Marlborough

In 1973, New Zealand wine giant Montana (pronounced as Mawn-tawna by the Kiwis), planted the first vines in Marlborough, at the north end of the South Island. Sauvignon Blanc was among the plantings, but it wasn't until later when the world first took notice of New Zealand Sauvignon Blanc.

For the United States, Cloudy Bay Sauvignon Blanc was unknown until Kevin Judd brought the wine to the World Vinifera Conference, in Seattle in 1996. The conference focus was on Sauvignon Blanc, so this Marlborough Sauvignon was an an attention-getting addition to the usual suspects from France and a few California wines.
My first taste of Cloudy Bay Marlborough Sauvignon Blanc at the conference and it was immediately evident to me that this was a different Sauvignon Blanc. The tropical aromas were clean and fresh like guava and passion fruit, with underlying citrus notes. It had bright and bracing acidity and only a trace of the base minerality of French Sauvignon Blanc.
Reactions of others at the conference were similar and the buzz for this new and different Sauvignon Blanc predicted that the wine soon would be in demand across the country, while opening a floodgate for more Marlborough "Sauvies."

Before long, New Zealand Sauvignons were showing up in U.S. wine shops, from Nelson, the region west of Marlborough and from Canterbury/Waipara on the South Island. Marlborough vineyards are divided into two sub-regions. The main area is the Waiaru Valley, with its pungent tropical fruit. Awatere Valley Sauvignons are more herbaceous, with a hint of minerality.
Hawkes Bay, a warmer site for Sauvignon Blanc on the east side of the North Island joined the list, along with Gisborne, where Sauvignon Blanc had replaced Chardonnay as the most planted white grape.

It seemed that American wine drinkers couldn't get enough of this new style of Sauvignon Blanc. Then, interest tapered off. So what happened?
The fall and rise

Conclusions from an informal survey I conducted indicated that people were tiring of the Marlborough style, with its monotone tropical fruit. Some even said the wines lacked complexity and one glass was enough.
So, I checked the listings at a large wine store in California. Of the 201 Sauvignons in stock, 27 are from Marlborough, but there were nearly as many Loire and California Sauvignon Blancs.
Further, Wine-Searcher.com lists more than 100 Sauvignon Blancs, many of them from Marlborough. In November 2021, Wine-Searcher ran one of their "Best" articles, this time the "10 Best Sauvignon Blancs." Five of the wines were from Austria, four from France and a lone Sauvignon (Lail Georgia) from California. Marlborough didn't make the cut.
Then, four months later, Wine-Searcher published the 10 "Most Wanted Sauvignon Blancs." Key word is "wanted," not "best." Five of the wines were French including Dagueneau Silex Pouilly Fume, $166; Marlborough had four, including Cloudy Bay, $30 Cloudy Bay Te Koko $52 and Kim Crawford, $16; Screaming Eagle was the California pick, at the ridiculous price of $6,212.

Why the disparity? Brand loyalty for one thing. Once wine buyers find a wine they like, the tendency is to remain faithful to that brand. And they continue to drink the wine they know, because it's easier to stay with what you know than it is to find something new.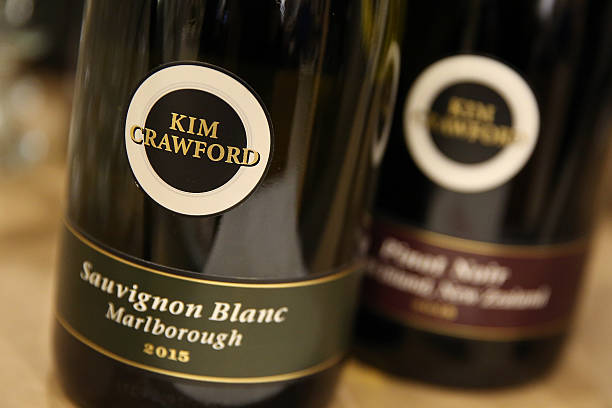 Consider Kim Crawford New Zealand Sauvignon Blanc. Once a small struggling brand owned by the man who's name is on the label, Kim Crawford eventually sold his name, but the wine went on to become one of the largest and most recognized New Zealand Sauvignon Blancs...and at just $16!

It would seem then that New Zealand Sauvignon Blanc, especially those from Marlborough, set a new style for the wine, offering consumers a choice between the French Sauvignons from Bordeaux and the Loire Valley and the tropical-styled Sauvignon from New Zealand.
Next blog: The Birthplace of Australian Wine

Send a comment or write me at boydvino707@gmail.com