The last episode of "My Like in Wine" (25 Feb) was about the joys and disappointments of winery touring and included a visit to Fetzer Vineyards and a tasting of Zinfandel with Barney Fetzer, then at a wine dinner in Denver, the adults got an evaluation of a Chardonnay from a young taster.
Both occasions were learning experiences. What follows are three episodes, from MLIW that further show there is always something new to learn about wine.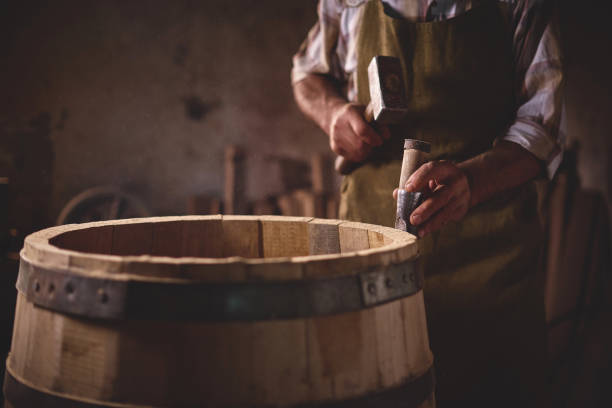 How hard can it be?

Working with wood has always been a personal passion. A carefully wrought chair or table can be an exquisite piece of art and rare woods that are transformed into objects that seem to be alive are a wonder. Just the process of bringing to life the beauty of wood gets my juices flowing.

So, I didn't hesitate when an invitation came to attend the "College of the Oaks," held at Seguin Moreau Napa Cooperage, to learn how to build wine barrels and then to raise my own barrel. Not exactly the same as making fine furniture, but it was working with wood.

Select a stack of presawn oak staves, fit them together, knock on the hoops and viola! How hard could it be?
Very hard. Especially if you don't have arms like Dwayne Johnson and the disposition to work in an environment that resembles hell, with machinery clanging and open fires blazing non stop. This was woodworking like I don't remember in high school wood shop, or anywhere else.
"Take the staves from the rack, hold the iron working hoop with one hand, then stand the staves inside the hoop, one at a time, forming a circle," explained the cooper (who had upper arms like Dwayne Johnson) showing us how it should be done. In no time, my left arm felt like it was ready to fall off, as I attempted to hold the hoop steady while lining up the staves.
Eventually, I managed, with help from the cooper to raise my barrel to the stage where a finishing hoop is hammered in place, with a short-handle sledge and a heavy iron wedge.
The barrel wasn't finished, but I was. Still to come were drilling the bung hole, toasting the interior and inserting the heads. But, at least, I now understood that things are never quite what they seem and never as easy as they appear.
Mastering the black glass tasting
Professional wine tasters and spirits blenders use a device called a "black glass," to allow a proper evaluation of the liquid without being influenced by color. In place of a clear tasting glass, tasters use an opaque glass that is either black or cobalt blue.

A number of years ago, I had written to Bernard Hine, director of Hine Cognac, expressing an interest in the art of Cognac tasting and blending. So, he invited me to join him and Hine's master blender for an early morning tasting, when your taste buds and senses are the most acute.

There were a few ground rules I didn't expect: Do not eat breakfast or have coffee or tea, do not brush your teeth, do not us after shave or skin creams, do not use deodorants. These guys were serious!
We gathered in a brightly lit white tasting room, with three sets of blue tasting glasses in a row on individual tables. The glasses were capped with glass discs (I was at a similar tasting in Scotland where they capped the clear glasses with the bases of broken glasses), capturing the aromatics.
The task was to decide what was in each glass: colorless raw spirit, or various aged distillates that would be used in a finished blend. I removed the glass cap from the first glass, put my nose into the glass, took a good sniff and immediately realized that without knowing the color and hue of the liquid (clear, light brown, yellow-brown), I didn't have a clue.
Hine and his associate were intently smelling and tasting, while I stumbled through the remaining glasses, without forming any solid opinions. It was clear to me that I didn't know as much about Cognac as I thought.
Homework is important
Followers of this blog may recognize the following anecdote, but in the interest of having a little advance knowledge to avoid being a complete neophyte, it bears repeating.
On one of my visits to Australia, I met with Len Evans, at Rothbury Estate in the Hunter Valley. At the time, the bigger-than-life Evans was one of Australia's legendary wine authorities, so I felt lucky to get a few minutes of his time. Len Evans died in 2006.
Little did I know that in addition to the usual tour and tasting, Evans was about to spring one of his favorite Hunter Semillon tastings on me. My knowledge of Semillon was limited and I had never developed much interest in the variety in California, but I was about to discover how much I didn't know, at least about Hunter Valley Semillon.
Evans and I were seated at a table in the Rothbury cellar, with four glasses in front of each of us. "These are four different Semillons and I'd like to hear which you think are oak-aged and which have no oak," Evans said.
I look at, sniffed and tasted the wine in each glass and then proudly proclaimed they all had seen oak, numbers three and four the most.
Evans let my words hang in the air for a pregnant moment and then rocked back in his chair with laughter and yelled, "No oak on any of the wines!"
Had I done my homework before visiting Rothbury, I would have known that unoaked mature Hunter Semillon, smells and tastes like it was fermented in oak, aged in oak, or both, and that Len Evans delights in playing the "Semillon trick" on unsuspecting writers.
The above three experiences, in my career as a wine writer, happened at different times over a period of 15 years and hopefully show that there is always something new to learn about wine.
Next Blog: The spicy Traminer
Leave a comment or email me at boydvino707@gmail.com