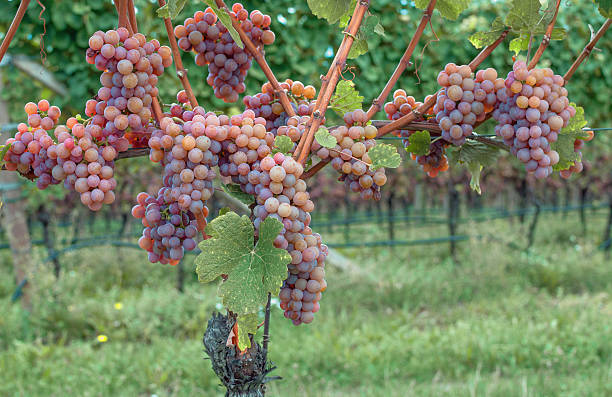 Gewurtraminer ready for picking

If there is a grape and wine that has it all, it would be Gewurztraminer. Opulently aromatic, exotically flavored, broadly textured, Gewurztraminer is a naturally full flavored white wine with a character that doesn't seem to fit in today's market.
The thing is, with one notable exception, the personality of Gewurztraminer runs against the grain of those people who want subtlety and dryness in their white wine.

Born in northern Italy, near the village of Tramin, Gewurztraminer is a clone of the less aromatic Traminer. The new clone eventually came into its own in Germany, where it became known as the Spicy (Gewurz) Traminer, although some translations have it as "perfumed."

In time, Gewurztraminer would spread throughout the wine world, taking root most notably in the Alsace region of France, but also New Zealand, Austria, the Alto Adige region of Italy, Germany and California.

Alsace and Geurztraminer

Mention Gewurztraminer in wine circles and Alsace is the most common reaction. Makes sense since the region in eastern France is , by most standards, the best known (and arguably the best) Gewurz in the world.
There are four main grapes in Alsace: Riesling, Pinot Gris (formerly called Tokay d'Alsace), Gewurztraminer and Muscat. Each of the four is used to make dry and sweet wines.
Dry Alsace Gewurztraminer is what defines the variety in the wine world. For Gewurz lovers, the bouquet and elegant balance of the wine allows them to claim that Gewurztraminer is greater than Chardonnay.

Of course, there are those who rightfully say that dry is not the only way to go. Sweet styles, known as Vendange Tardive (VT), or late harvest, are made only from the four main grapes, with Gewurztraminer the most common since it attains high grape sugars easier than the other three grapes. Requirements for VT are strict and numerous, including informing the authorities before harvest of the intent to produce VT wine.
Botritised Geurztraimer

When grape sugars are higher than that required for VT, wines may qualify as Selection de Grains Noble (SdGN), the last word referring to the presence of botrytis (the "noble rot"), which is not a requirement for Vendange Tardive. SdGN wines are always sweet.

Although some producers continue to make traditional dry wines, the trend in recent years has been toward white wines with, at least, the impression of sweetness. However, climate change has moved the needle back to a "drier" finish with little to no detectable residual sweetness.
California and Gewurztraminer

Interest in California wine was growing fast in the late 1970s and early 1980s. Blends with fanciful names were big in those days. Beringer Vineyards had a white wine money-maker called Traubengold (gold raisin). The Traubengold flavor was kicked up a notch by Gewurztraminer. But, more often than not, Gewurz dominated most blends.

As a varietal, though, Gewurz had success in Mendocino County and other cool spots in California, such as the Monterey coastal vineyards. However, the story of California Gewurz would be hit and miss.

The hits were (and are) mostly in Mendocino's Anderson Valley, from such noted wineries as Navarro and Lazy Creek. The misses, and near misses, were in warmer places like the Napa Valley. Louis Martini was the exception, selling a medium gold, highly aromatic wine called "Gewurz Traminer."
Other Gewurztraminer
There's not an extensive amount of Gewurztraminer and Traminer grown in other places. Traminer is popular in parts of Germany and Austria and northern Italy. Torres has had success with Vina Esmeralda, made from Traminer. And some Gewurztraminer is grown in Washington state and Oregon.

Making Gewurztraminer
Production of Alsace Gewurz is pretty straight forward: controlled cold ferments in stainless steel, native yeasts, no acid adjustment and no malolactic fermentation. The wines are matured in neutral vessels. Oak flavor is not desired, so the wines are often kept in old oak vats coated on the interior with thick tartrates. White wine that has not gone through a cold stabilization may precipitate tartrate crystals that collect on the bottom of the cork.

Tartrate crystals on a cork

Aside: Tartrates are the harmless natural deposits of potassium salt of tartaric acid. The deposits coat the insides of barrels and vats with crystals that have been called "wine diamonds," and have been mistaken for glass shards. The purified form of wine tartrates is made into Cream of Tartar.
Tasting Gewurztraminer

Gewurz has an aromatic profile that includes such diverse things as crushed rose petals, lychee, honey, exotic spice, citrus peel and even an old descriptor like shaving lotion or facial cream, although the latter probably would not resonate with younger tasters.
The fullness of the spicy Traminer is proof that what you taste is a confirmation of what you smell.
Next blog: Oregon Pinot Gris

Note: There will not be a blog on April 1, 2022. "Gerald D Boyd on Wine" returns on April 8, 2022.