There is a lot of talk circulating in wine circles about terroir: what is it and how does it affect wine? Terroir is one of those untranslatable French terms that Americans grapple with. And opinions differ about how terroir applies to a vineyard environment and if the influence of terroir moves through the grape to the wine.
Not to worry; this is not an essay on terroir. But it is an attempt to understand how external factors (eucalyptus trees near vineyards) can influence the growth of grapes and the taste of wine, even with or without the intervention of winemaking.
Sometimes, people buy a bottle of wine without knowing anything more about it than, "It's a wine I know and like." Fair enough, but a more discerning drinker will ask about the wine's provenance, the background that helps round out a tasting experience.
A vineyard in Monterey County

The Folly of a Bad Decision

Which brings us to the former Mirassou Vineyards and Monterey County. In a previous blog (9/17/22) on Monterey wines, there was mention of the so-called "Monterey veggies" and how similar that distinct flavor was to the eucalyptus component in some red wines, a notable example, some say, being Heitz Martha's Vineyard Napa Valley Cabernet Sauvignon.
In the late 1970s, Joe Heitz told me that he had never detected eucalypt flavors in wines he made then in the Central Valley. Not long ago, I opened a Heitz 1999 Martha's Vineyard Cabernet and marveled at how well the wine had matured. But I didn't smell or taste any eucalyptus in the 1999 Martha's I had.

I did mourn the fact that a case of the '99 Martha's was not gathering dust in the back of my wine closet.
Thinking back to that conversation with Joe Heitz, I remembered another event about vineyard soil imparting a distinct flavor to wine. In the late 1970s, Steve Mirassou, a member of the noted Mirassou wine family, and a friend of mine, was then in Mirassou sales, when the whole Monterey veggie brouhaha broke in a newspaper wine column.
Mirassou Vineyards, then in San Jose, farmed an 80-acre vineyard in northern Monterey County, called San Vicente Vineyard. The vineyard was planted next to three windbreaks of eucalyptus trees.
"I remember parking my pickup truck next to the windbreak to help the guys move sprinkler pipe," recalls Mirassou. "When I came back to my truck there was sap from the trees all over the windshield.

"It dawned on me then that the first five or six rows of vines would probably have a lot of sap on them...one eucalyptus tree can 'flavor' 50 acres of grapes," he explained.
"And the Chenin Blanc, Gewurztraminer, Reisling and Chardonnay that we produced from the San Vicente Vineyard were all absolutely delicious," Mirassou said.

He explained that the whites didn't have a eucalypt character, "because unlike the red (varieties), the whites are pressed and only the juice is fermented. The reds are fermented with the juice and the skins and the skins are coated with the eucalyptus oil."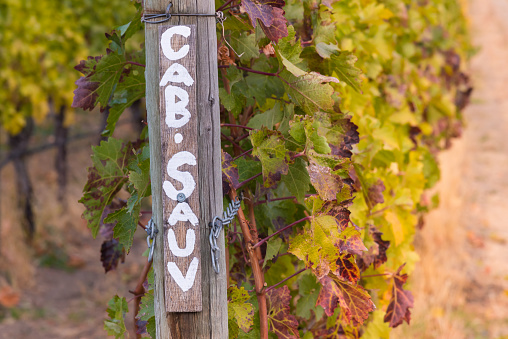 Mirassou said the only problem (we had) was with Cabernet Sauvignon. "And it was unfortunate for us (Mirassou Vineyards) that in the late 1970s, as Cabernet Sauvignon went so went your reputation."
ADD ABOUT SOIL COMPOSITION

Recalling the marketing nightmare that came with that kind of vineyard problem, Mirassou added, "No one cared about how good your reasoning was at that time. Had we focused on Pinot (Noir) and grafted it over to Cabernet (Sauvignon) then we would probably still be in business as Mirassou." The Mirassou brand is now owned by Gallo and most of the San Vicente Vineyard is now a subdivision.

In Steve Mirassou's opinion, the San Vicente Cabernet was so spoiled from the off smell and taste that the wine was undrinkable. Anthony Dias Blue, then writing for the Los Angeles Times, picked up on the Mirassou Monterey problem and wrote about it in his wine column. Blue faulted Mirassou for planting Cabernet Sauvignon in a part of Monterey County better suited to row crops.

"My sales team and I were getting crucified in the market at the time," recalls Mirassou. "I went to my uncle about the problem and his comment was 'Well, maybe, but I kind of like it!'"
"Would you like 60,000 cases of it?" I replied, astonished.

Steve Mirassou said that the encounter with his family was as far as he ever got in his quest to replant a lot of late ripening varieties in the San Vicente Vineyard, so he quit and eventually started Steven Kent Winery with his son, in Livermore.
Some 40 years later, Mirassou's memory of the event remains clear about the impact of eucalyptus on San Vicente Cabernet; a very different account from Heitz's memory of wine and eucalypt character in Central Valley wines.
The take away for consumers

The recollections of Steve Mirassou and Joe Heitz, although years apart, point to the problem of subjective impressions about wine and how that may influence a person's buying habits.
Both of the observations are just that, observations and not based on science. Hopefully, Heitz's and Mirassou's impressions will inform your next wine tasting evaluation and purchasing decision.

Next blog: Sonoma Series: Alexander Valley & Knights Valley
Leave a comment or write me at boydvino707@gmail.com