Holiday wine buying is coming up fast, so the time is right to think of easy-drinking alternative red wines.

And that would be light red wines. Consumers gravitate to big reds like Cabernet and Syrah, while ignoring adaptable and tasty light reds.

At the top of the list of light reds is Gamay (aka Beaujolais) and red wines from southern France and northern Italy and parts of Spain. There is a constantly moving line between a rose and a full-on red wine that keeps shifting, never to be found in the same place twice.
Spain
With Spanish wine, the shifting line is steadier since the Spanish have a category of wine called clarette that is neither pink nor red. And they conveniently, use the term tinto to identify red wines. Even though the pink-red line moves at times, with Spanish wines, at least, you know if the winemaker thinks his wine is a rose or a red wine.
Aside: Label terms relating to the color of a wine can be confusing: clarete, Clairet, claret, Clairette. Clarette is explained above. claret is the English term for Bordeaux red wine. Clairet is a dark pink Bordeaux wine. Clarette is the name for a southern France white grape.
France

The best known example of French light red wines is Beaujolais, available in a range from complex and structured Cru Beaujolais to fresh and fruity Nouveau Beaujolais. Most nouveau is made by carbonic maceration, a technique that converts the sugar in uncrushed grapes without the use of yeasts. In California, the technique is known as whole-berry fermentation.

The levels of Beaujolais, in ascending order of complexity are: Beaujolais Nouveau (or Primeur), Beaujolais, Beaujolais-Villages, Beaujolais Cru. There are ten wines in the Cru (or village) category, with such noted names as Moulin-a-Vent, Morgon and Chenas.
Gamay Noir au Jus Blanc

Beaujolais is made from Gamay Noir a Jus Blanc, a red grape with pale or "white" juice. The Gamay of Beaujolais is not the same as Gamay, a red grape with red juice, part of a small group of grapes known as teinturiers.
Nouveau is traditionally released the third Thursday of November, just a few weeks after harvest, and is considered over the hill by the next release.
In export markets, like the United States, grapy Beaujolais is a popular wine, but the French consider the wine a commodity. The reason goes back to the late 1990s and early 2000s, when Beaujolais vintners bought into the international craze for nouveau, a move that almost destroyed Beaujolais.
Beaujolais is located between the Cote de Beaune in Burgundy and the northern Rhone Valley. Although the terroir is different from Burgundy, Beaujolais Cru wines are now made in a more concentrated style, similar to the Pinot Noirs of the Cote de Beaune.
Elsewhere in France, light red wines are made from a range of varieties, with Grenache, Syrah, Mourvedre and Merlot the most commonly used in the southern regions of Languedoc-Roussillon and Provence. To keep the wines light and fruity, winemakers use carbonic maceration.
Italy

Light red wines are common in the northern tier regions of Italy, mostly from Trentino Alto Adige, Veneto, Friuli, Emilia Romagna and Lombardy.
The list of popular easy-drinking reds from northern Italy is long. Lombardy alone produces a wide range from Merlot and Cabernet Sauvignon, plus Lambrusco, the immensely popular but scorned wine by some, made from the grape of the same name.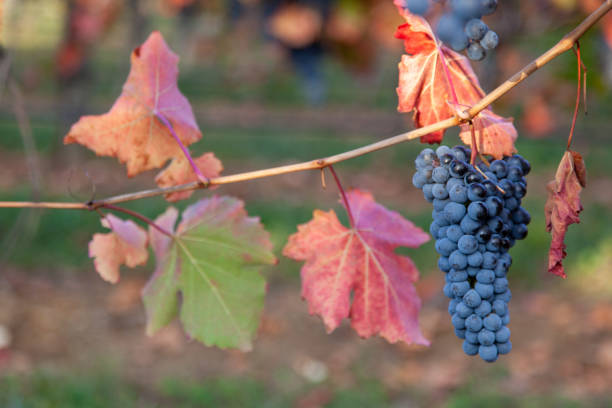 Lambrusco grape cluster

Lambrusco has been compared to Beaujolais Nouveau, for its grapy fizzy character, although during the nouveau craze, some Italian wineries released a nouveau-style red.
Besides Lombardy, Emilia Romagna is also home to some Lambrusco, although the central Italian region has been making more complex red wines, without the use of oak, from Pinot Noir and both Cabernet Sauvignon and Cabernet Franc (known locally as Cabernet).
Tracking the home of a red wine in this part of the country can be difficult, because of the over-lapping from region to region. Oltrepo Pavese is a good example as the extensive area covers multiple DOCs, producing Oltrepo Rosso from Pinot Noir, Barbera and blends.
Most of the red wine from Friuli and Alto Adige is made from such international varieties as Cabernet and Merlot. Rarely seen in U.S. wine shops are unique wines like Lagrein, a red variety indigenous to Alto Adige and Trentino, and the undistinguished Schiava, native mainly to Trentino and Alto Adige...and Japan!
There are occasions when a lighter-bodied red wine is a better choice. The range of light reds is wide and open to experimentation.
Next blog: Which Wine for Christmas?
Contact me at boydvino707@gmail.com