Holy holly! It's that time of year again and we're all trying not to look at the calendar.
It won't work. Christmas will be here in just 15 days.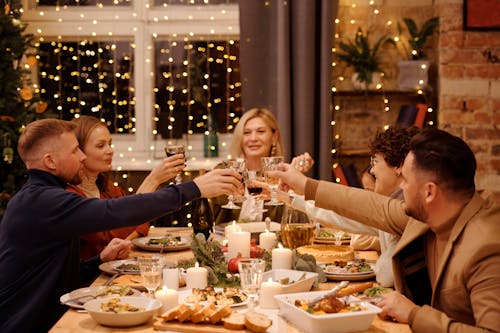 That means, of course, that along with all the other things on your to-do list, there is that nagging recurring question: Which wine or wines to have with the holiday dinner?
You could take the easy way out and give in to the old adage of "white wine with white meat and red wine with red meat." That's a neat and pain free way to approach the question, but before you surrender, consider these few helpful hints to make your decision easier.
How important is it for you to make the right wine choice? Christmas dinner should be a time of celebration, a time to join with family and friends. Worrying if the wine will be perfect can throw a wet blanket on the celebration.
Will the meal be simple or complex? One size doesn't fit all for many holiday meals. A groaning table laden with two or three meat choices, a variety of side dishes, both sweet and savory and a long list of accompanying condiments, requires more than one type of wine, so everyone can make their own wine choice.

For a simple traditional meal of roast turkey and one or two sides, Pinot Noir or other light reds will be just right. In this space, on December 3, was the suggestion to pass on (for a change) heavier reds like Cabernet Sauvignon and Syrah, in favor of lighter-bodied reds from France, Spain, Italy and California. Beaujolais, Spanish clairette, Italian Pinot Noir from Trentino and a California Gamay, might be the wine to go with the holiday bird.

What is the color of the meal you plan to serve? Odd question, I know, but turkey is a two-tone bird with both light and dark meat. Go with a dry white of your choice, like unoaked Chardonnay or a Riesling with a hint of sweetness and a light red or one wine that will handle light and dark meat, such as Pinot Noir.
And, of course, you'll need different wines for red beef (get out your big red) or pink ham (a substantial rose from Spain or Provence).
More important than the color is the preparation. A simple standing rib roast is a good match with Pinot Noir, Cru Classe Beaujolais or a northern Italian Cabernet Franc, while a sturdier Rhone, Zinfandel or California Cabernet Sauvignon is a better choice with a beef roast, seasoned with a special rub.
If you've read this far, you noticed that I am a big fan of Pinot Noir. It's one of the best all-purpose red wines I know and in recent years, winemakers around the world have been making better and better pinots.

Family favorites, especially all those covered dishes brought by quests, are hidden mines waiting to destroy the most astute wine choices. What do you do with Aunt Jane's sweet potato casserole, the one with the marshmallows? Or, Uncle Ned's "famous" spicy three bean dish with a thick topping of pepper jack cheese? Yield to pressure from Uncle Ned and Aunt Jane and offer chilled beer!
Controversy has been swirling for years about whether the holiday dinner is the time to break out your best bottle, or opt for something not as old and not as expensive.
There are too many flavors and textures in a traditional turkey meal with all the trimmings to chance an aged Bordeaux/Cabernet or Rhone/Syrah; save them for a meal centered around red meat like beef or lamb. Instead, go with one of the no-worries wines mentioned above.
Vegducken
Finally, there has been a noticeable rise in interest for meatless meals. Call it vegetarian, plant based, vegan, whatever, the idea is to build a tasty meal around dishes with no meat or fish, and if you're vegan, then no dairy or animal products, like honey. Sounds complicated, but it needn't be.
As for wine choices with a vegetarian holiday meal, the options are about the same. Except seasoning plays a bigger role with meatless dishes, as do the types of grains and nuts and veggies used. The internet is loaded with recipes for tasty meatless dishes that will satisfy everyone at your table. Cheers!
Next blog: My Life in Wine Episode 23
Contact me at boydvino707@gmail.com