It could be said that Oregon's reputation for world-beating Pinot Noir owes its success to the dissatisfaction of a small group of California wine makers.
Let me explain. A few pinot missionaries, led by David Lett, decided that the Golden State was not suitable for their grape, so they headed north. By the 1960s, "Papa Pinot," as Lett would become known, planted pinot vines near Dundee and opened the Eyrie Vineyard. Dick Erath, Erath Vineyards (formerly Knudsen-Erath) led the next wave, mostly from California, settling in the Willamette Valley.
The background to this vinous diaspora is that grape specialists at California's UC-Davis told Lett that Pinot Noir, or for that matter any Vitis vinifera grape, would not survive in Willamette's cool climate. Lett and his colleagues persisted, proving that the experts are not always right.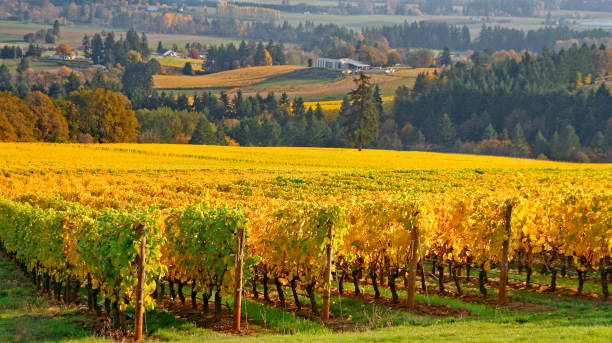 Autumn in the Willamette Valley

Today, the Willamette Valley is the epicenter of arguably America's best Pinot Noir. The valley boasts more than 200 wineries, most of which make Pinot Noir and is host to the annual International Pinot Noir Celebration, that attracts a sizeable contingent of Burgundian vintners, from the birthplace of classic Pinot Noir.
Anecdote. There is another story about Burgundians anointing the Willamette Valley (not California) as a place, outside of Burgundy, worthy of growing great Pinot Noir. In 1979, the French staged a comparative tasting between French wines and their North American counterparts. The 1975 Eyrie Vineyard Pinot Noir placed second, besting some of Burgundy's finest pinots.

Robert Drouhin, head of the Burgundy wine company, Joseph Drouhin, did not agree with the results, so he held a re-match. The results were the same. Drouhin decided that Oregon Pinot Noir was worth a look, so he went to the Willamette Valley with his daughter Veronique and in 1987, Drouhin bought vineyard acreage, built a winery, with Veronique as winemaker.
The most important thing to be said about Oregon Pinot Noir is that it is not Burgundy. The grape may be the same, though some will argue that variations in terroir and other factors, illustrate the differences between the two wines. The flavors of Pinot Noir are elusive but at its base Oregon Pinot Noir has a deep berry richness with subtle earthy notes and above all, a complexity that varies with the local area and terroir.
Beyond the Willamette
When Oregon wine first became known, spurred mostly by Pinot Noir, critics sniffed that Oregon was a one-trick pony. Fact is, in 1961 Richard Sommer, a California transplant, planted Pinot Noir at Hillcrest Vineyard in the Umpqua Valley, in what today is considered (at least in wine terms) southern Oregon.
The two million acre vineyard region runs just south of Roseburg to the California border and includes a number of AVAs (American Viticultural Area), ranging from the small Applegate Valley AVA, part of the larger Rogue Valley AVA, to the large encompassing Southern Oregon AVA.

Autumn in a Rogue River Valley Vineyard

Umpqua Valley and Rogue Valley are the best known and have the most wineries. The other AVAs are Redhill-Douglas, Snake River Valley and Columbia Gorge. Two regions, Walla Walla and Columbia Gorge are technically a two-state AVAs, with vineyards in both Oregon and Washington.
Southern Oregon is warmer than the Willamette Valley, making it a good spot for Cabernet Sauvignon, Merlot, Cabernet Franc, Syrah, Grenache and Tempranillo. Still many of the vineyard sites in Southern Oregon are cooler than northern California, and reds like Cabernet are leaner and with more earthy notes.
Oregonians are proud of their wine and they want consumers to know that there is a vibrant wine industry operating from just over the border from California to just south of Portland.

Next blog: Wine's Turning Point
Contact me at boydvino707@gmail.com