A few years ago, I was sitting at a table with some members of the Wente wine family, at their restaurant in Livermore. The interview was going well until I said to the family matriarch, Jean Wente, "I understand, but in wine country..."
Mrs. Wente looked directly at me and with a slight smile said, "Mr. Boyd, Livermore is also wine country."
You could have heard a cork drop as I quickly tried to recover from my faux pas. While trying to hold up my part of the conversation with this considerate lady, I bumbled into making the same mistake I accused others of, that "wine country" must mean Napa and Sonoma.
Jean Wente knew my mistake but she wasn't going to pass up a delicious opportunity to set the record straight with a visiting wine writer.
And that's how a polite reminder marked my new appreciation of the Livermore Valley and the wine produced there.
Wente Vineyards image
In the early 1880s, Carl Wente and Joseph Concannon planted vineyards in the Livermore Valley, a few miles apart. A few decades earlier, settlers in the Napa Valley were making wine for their own tables from the then common Mission grape. The first wine from more noble grapes didn't happen in the North Coast, however, until about 1860.
From the first major plantings of Vitis vinifera, Livermore has been known more for white wines, like Sauvignon Blanc and Semillon, than reds. Today, Cabernet Sauvignon is the leading red variety in the valley, followed by Petite Sirah.
While concentrating on Cabernet Sauvignon, Concannon Vineyards cpntinues to enjoy a solid following for its Livermore Petite Sirah and Semillon. Still, even though Concannon continues to show the impessive merits of Semillon, American consumers want their Chardonnay.
The Valley

Livermore valley is 15 miles long and 10 miles wide, with more than 40 wineries in a loose cluster south of I-580. Prior to Prohibition, there were 50 wineries in the valley. Today, with the exception of large wineries like Wente and Concannon, the majority are small. And a handful describe themselves as "boutique," like Mia Napote Wines, specializing in Italian varieties.
Here are eight Livermore wineries with wide distribution: Wente Vineyards, Concannon Vineyards, Fenestra, Murrieta's Well, Retzlaff Vineyards, Steven Kent Winery, Cedar Mountain Winery, Darcie Kent Estate Winery.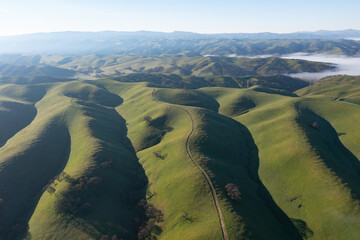 Ocean fog creeping across East Bay hills to Livermore Valley

Daytime temperatures can be very warm in Livermore Valley, but because of the valley's east-west orientation, coastal fog from the Pacific ocean and San Francisco Bay is drawn through the low East Bay hills, cooling the nights.
The Wines

This daily temperature change has allowed Livermore winemakers to make a range of wines from traditional French grapes such as Chardonnay, Cabernet Sauvignon, Merlot, Syrah, Sauvignon Blanc and Semillon. And Petite Sirah and a few Italian varieties.
Livermore's contribution to California viticulture is the Wente clone of Chardonnay, now used by an estimated 80 percent of wineries in the state. In 1912, German immigrant C.H. Wente brought in a Chardonnay clone from Burgundy. A process called "vegetative propagation" has adapted the clone to Livermore's unique growing conditions. Today, the Wente clone produces Chardonnay with apple, pear, citrus and floral characteristics.
Although Petite Sirah is favored as a blending component, especially with Zinfandel, the grape is well suited to Livermore terroir and is made as a varietal by a number of Livermore wineries, most notably, Concannon Vineyards, with three separate bottlings and a Petite Sirah Port.
Livermore Valley wine country, with its array of wineries, is an easy drive from San Francisco or Oakland. It's an inviting place to spend a day or two dining, tasting wine, or playing golf at the valley's excellent golf courses.
Next blog: Monterey County
Leave a message or write me at boydvino707@gmail.com