The bulk of wine produced in Australia comes from four states: Western Australia, Victoria, New South Wales and South Australia. To read about them, consult the Index on the opening page of any of my blogs.
The last installment in the Australia Series, is an overview of the wines of Tasmania, Australian Capital Territory and Queensland. The combined output of these three regions is small, yet each offers something unique or different.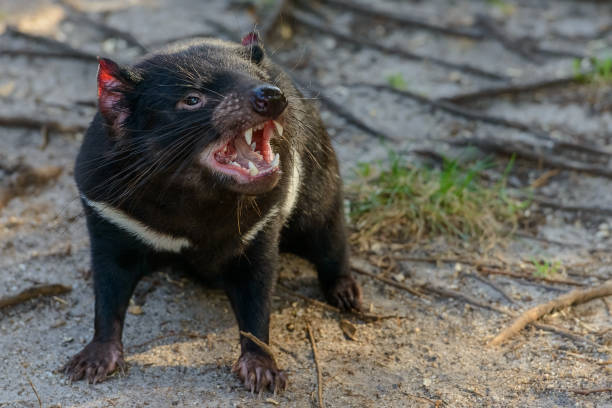 Tasmanian Devil

Tasmania is an island off the southeastern coast of Victoria. Named for settler Abel Tasman, "Tassie," as it is fondly known, has experienced the problem that few winemakers want to go there, because the island is thought to be a backwater and maybe a career killer. But making wine on Tasmania poses challenges a winemaker may not face elsewhere and that makes it attractive. An array of micro climates and terroirs pose the biggest challenge. Tassie wineries, though, have built a solid reputation for Pinot Noir, Chardonnay, Riesling and sparkling wine, mainly from Pipers River and the Tamar Valley. Brands: Pipers Brook, Tamar Ridge, Apogee, Morilla Estate, Clover Hill.
Australian Capital Territory is an odd duck in Australian wine. For one thing, the area is known as both ACT and the Canberra District, after the capital city of Canberra. But, because of strict land use rules, the small group of ACT wineries operate outside the borders in Yass Valley and around Lake George. A handful of tiny wineries make Riesling, Chardonnay, Sauvignon Blanc and a little Shiraz. Wines to look for include Clonakilla, Helm and Lark Hill. Many of the ACT wines are hard to find even in major Australian markets. So ask your local wine merchant to special order them.

Queensland cluster

Queensland was a wine powerhouse in the late 19th century. The northern region went through a series of ups and downs, but now seems to be on an up turn. The most significant wine area is Granite Belt, a small sub region on the southern border with New South Wales. However, the higher elevation, means spring frost can be a problem. Chardonnay, Semillon and Sauvignon Blanc are the main whites, with Shiraz and Cabernet Sauvignon the best reds. The larger wine sub region is South Burnett Valley, with most of the wineries along the coast and around Brisbane. Wine tourism is the popular attraction.
Final thoughts on Australian wine

This series brings to a close an overview of Australian wine. But there still is a few things to say about the past and future of Australian wine in the U.S. market.

Wine drinkers with long memories will remember a charming Aussie named Paul Hogan who extended an invitation to Americans to come to Australia and they'll put a "shrimp on the barbie." The popular TV ads, that ran in major U.S. markets, were a follow up to Hogan's mega hit movie, "Crocodile Dundee."
Although Hogan's pitch was on behalf of Australian tourism, the ads and the movie helped to open the flood gates of what seemed like an endless flow of Australian wine that soon became the new wine sensation in America.
For a time, American wine drinkers enjoyed well-made Aussie Chardonnay, Cabernet Sauvignon, Shiraz (Syrah) and were re-acquainted with the pleasures of Semillon as a varietal wine.
For many, Australian wines were a lot like those from California, yet they were different, especially Shiraz. American wine drinkers had gotten used to leaner Syrah from the Rhone Valley, aged in French oak and then along comes brawnier Aussie Shiraz, aged in American oak. The Aussies had shaken up the American wine consciousness.
It wouldn't be the last shaking from Down Under. Aussies took over pop music and movies, Russell Crowe and Nichole Kidman were everywhere and American movie goers had a hard time deciding if the actor they were seeing with a convincing accent was American or Australian.
Wine drinkers were just as puzzled. Australian wines, of course, had their own personality, but to the casual wine consumer, Aussie Chardonnay and California Chardonnay were like close cousins: warm climate fruit and French oak tended to blur the differences.
From the earliest days of the Aussie invasion, price was the leveling market factor. Australian wine was beating California wine at most price points, until it wasn't. In time, Australian wineries raised bottle prices high enough that consumers thought why should they pay a premium price for an Australian wine when a comparable California wine was on the shelf for less.
Today, Australian wine offers a good quality/price ratio. Trying different wines is always a good policy, especially when wineries throughout Australia offer such a wide variety of wine.
The Sonoma Series is next, with the first installment scheduled for October 14, featuring Alexander Valley and Knights Valley.
Next blog: Focus on Malbec
Leave a comment or write me at boydvino707@gmail.com