Shiraz, aka Syrah, is making a comeback and it is about time!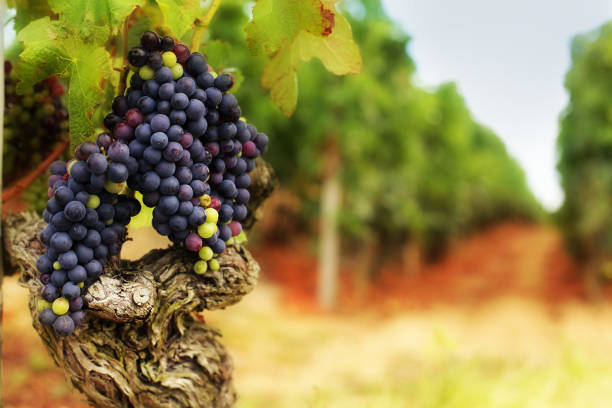 Old vine Shiraz

Syrah, the big red with loads of personality, from the northern Rhone, never attained the popularity of Cabernet Sauvignon or Pinot Noir. But as Shiraz, the Australian name, Syrah became a favorite of consumers who preferred their red wine big and bold.
According to the latest market trends, Australian Shiraz is making a comeback and the Aussies couldn't be happier. Over the last two years exports have been down, a problem exacerbated by rising prices for Aussie wine, at least in the U.S. Market.
In the American market, thanks, in large part, to a group of California winemakers that created the Rhone Rangers, the popularity of Syrah and other Rhone varieties, took off in the late 1980 and into the '90s.
Wine drinkers were looking for red wine alternatives to Cabernet and Syrah filled the bill and California Pinot Noir had yet to attract a lot of attention. Conveniently, Syrah was midway between Cabernet Sauvignon and Pinot Noir: Cabernet strength and structure supporting layers of ripe-berry Pinot fruit.
Australian Shiraz

If you were to fly across Australia, the first thing you would notice is how barren and arid it looks, mile after mile. Unlike the interior of the United States, mostly covered with cities and towns and large green farms, Australia appears from the air to be vacant and uninhabitable.
For that reason, most of Australia's 25 million people live along the coasts. Few of country's wine regions are beyond the reach of coastal influence. Australia is such an ancient worn-down continent that there is little elevation, so growers must reply on the cooling benefits of ocean air to counter the heat. But the marine influence is not as noticeable in Australia as it is in California.

Sidebar: In 1985, a handful of American wine writers was invited by the Australian government to come down under and see what their wineries were doing. I had always wanted to see Australia so this was my chance, even though the trip turned into a forced march: Sydney, Hunter Valley, Perth, Margaret River, Melbourne, Mornington Peninsula, Yarra Valley, Canberra, and Sydney.
We saw a lot of wineries and vineyards, but what we saw most was wine, wine and more wine, everywhere we went. At a Sunday luncheon at one of Sydney's famous harbor side seafood restaurants, there was at least one bottle of wine on every table in the sprawling two-story restaurant.
Easing my lower jaw back into place, I thought, why are we not doing this in America?
Shiraz is grown just about everywhere in Australia, save for a wide hot corridor in the north that spans the vast continent. Barossa Valley and McLaren Vale, both in South Australia, are generally considered to be the best examples of "big and bold."
More tempered fruit focused Shiraz comes from the Hunter Valley, New South Wales; Margaret River, Western Australia; Tasmania and in various parts of Victoria, like Heathcote and Yarra Valley.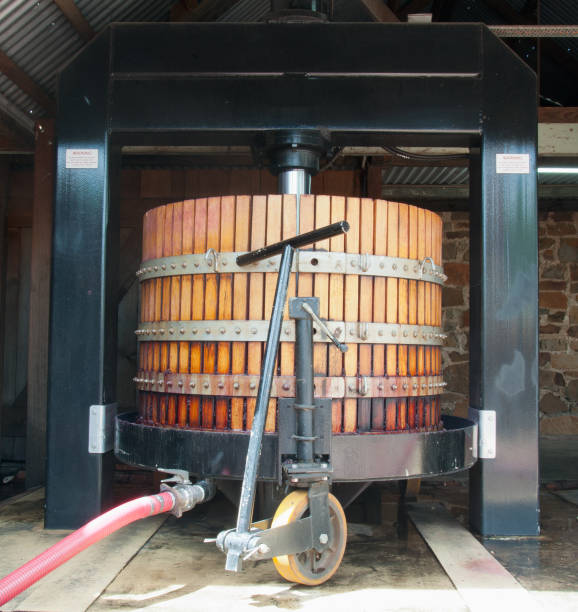 Basket press in Barossa winery

Australian Shiraz has a reputation for being big and full-blooded, but there are other styles of Aussie Shiraz worth looking at. These are the main regions for Shiraz:

SOUTH AUSTRALIA

Barossa Valley: The Barossa style is full and dark with layers of cherry and raspberry, hints of dark chocolate and mint or eucalypt. Penfolds Grange is the premier Barossa Shiraz, but there are scores of others including St. Hallett, Grant Burge, Yalumba and Peter Lehmann.
Sidebar: People often confuse "mint" and "eucalyptus" when smelling and tasting certain red wines. The two are not related but their aromatics bear some similarities. Tasters describe eucalyptus as "minty and faintly medicinal," while mint is a clean clearly defined component. The mint-to-eucalpytus spectrum includes peppermint, spearmint, basil, menthol and eucalptyus.

Eden Valley: Near the Barossa but at a higher elevation, Eden Valley Shiraz shows more plum and black cherry, than black pepper. Henschke's Hill of Grace ranks second only to the Grange. There's also Heggies and Pewsey Vale.
McLaren Vale: The McLaren Vale style is lighter and smoother, with a rich velvety texture and a focus on fruit and good acidity.

VICTORIA
Yarra Valley: Not far from Melbourne, this cool verdant valley is known more for white wines than big reds. Yarra Shiraz is deeply colored, with hints of spice and pepper and cherry. Look for De Bortoli and Yarra Yering.
BENDIGO
Heathcote: This is big mint country and Shiraz shows it in spades, whether its peppermint or eucalyptus. Heathcote Shiraz has strength and longevity. Notable are Balgownie and Jasper Hill.
NEW SOUTH WALES
Lower Hunter Valley: Hunter Shiraz is legendary in Australia, even thought it has been eclipsed by the Barossa in recent years. Hunter Shiraz are angular when young, but become smooth and supple with bottle age. Look for Rothbury Estate, Brokenwood, Mount Pleasant.
WESTERN AUSTRALIA
Margaret River: Wild and beautiful, Margaret River is Cabernet country, but there are parts of the scenic country making distinctive Shiraz, such as great Southern (Plantagenet) and Geographe (Capel Vale).
Of course, there are other areas in Australia were Shiraz stands out. Join the crowd and re-discover, or discover for the first time the pleasures of Australian Shiraz.
Next blog: My Life in Scottish "Wine" Episode 22
Contact me at boydvino707@gmail.com