My Life in Wine had progressed, in 1994, to a staff wine writing job at the San Francisco Chronicle that involved, among other things, an encounter in a elevator with a cranky colleague and a tasting of corn flakes that prompted me to think twice about Kellogg's, but consider how the panel tasting idea would work with wine.
At first, my editor in the Chronicle food department, was lukewarm to the idea of a wine tasting panel. Food was a stand-alone section, growing in readership and he didn't see any open space, even every other week, for the results of a wine tasting.
So, my pitch was to make the wine tasting panel a companion piece to the food tasting panel. Eventually he agreed and we set about working out the details.
Then the hard part began: getting the word out to the wine industry, finding judges who could evaluate wine with the consumer in mind and finding space for the avalanche of wine samples I knew would be coming.
The one thing the Bay Area has in abundance is food and beverage people and a wealth of winemakers not far from the city. A string of phone calls over a few days and I had a group of enthusiastic sommeliers, wine importers, retailers, winery owners, winemakers and wine savvy consumers, as panelists.

Large wine competitions that taste thousands of wines are often geared more toward "improving the breed of wines within a category," meaning feedback to wineries and winemakers on what is working and what isn't with a particular wine type; sweetness in Chardonnay, oak levels in Cabernet Sauvignon, excessive alcohol, quality/price ratio for high-priced wines.
Wine competitions also provide winemaker/judges and others with a rare opportunity to taste and evaluate, even compare against their own wine, a large number of a specific varietal. Being faced with hundreds of Chardonnays is a daunting task but it also is a good learning experience.
The Chronicle Wine Tasting Panel was looking only for three things: the best wine in a flight (grouping); the quality/price ratio; and some idea what food(s) would go with the wine.

My job was to facilitate the tasting, invite the judges, organize the wines and fill in for a missing judge, while acting as an arbitrator, to break all ties and determine if a wine was perhaps flawed. We always had a backup bottle or two for each wine tasted. If a wine didn't pass muster twice, it was eliminated and not mentioned in the tasting report.
Panelists were selected from my personal knowledge of their qualifications, people I knew in the wine business that I had tasted wine with before. Other panelists were recommended as having a "good palate."

Some of these people worked out, others didn't. Occasionally, a first-time panelist would throw around a lot of wine buzz words but didn't have a trained palate. Most often these people were trying to break into the wine trade and, perhaps, had a part-time job as the sommelier at a small cafe, not known for its wine list.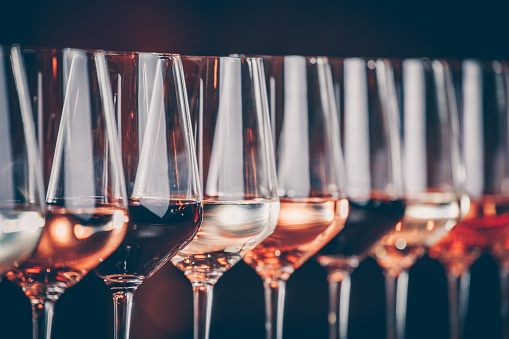 A surprising discover was some winemakers did not have a sense of what the consumer wants in a wine, not as much as, say, a wine retailer.
Winemakers are taught at university how to detect possible flaws in a finished wine and then, how to "fix" the problem. Consumers are looking for appealing flavors, varietal correctness and not flaws.
An example of a potential problem for judges would be agreeing on an acceptable level of Brettanomyces, a spoilage yeast found in some red wines such as Pinot Noir. Winemakers disagree on what level of Brett is acceptable, while most consumers would not detect Brett in a wine and might not object to it being in the wine unless the level was really high.

Winemakers were once taught that zero Brett is the only acceptable level, so if the presence of it is questioned in a judging and one judge follows the "zero rule," then there is a possible impasse in rating that wine.
Fortunately, once the Chronicle Tasting Panel was up and running, the panelists were mostly in general agreement. Wine judges learn to work together, so that one person who is not overly sensitive to sulfur, relies on another panelist, with a sulfur sensitivity, to bring that potential problem to the attention of all panelists.
After eight years, my tenure as the Chronicle wine writer and tasting coordinator ended in 2002, my wife and I moved to Santa Rosa, California and I embarked on the next chapter of My Life in Wine.
Next Blog: Changing Vineyards
Contact me at boydvino707@gmail.com