Of all the confusing things that have tripped up wine drinkers over the years, trying to make sense of German wine may be the most confusing. Wine places with difficult-to-pronounce names, undecipherable label terms like spatlese and trockenbeerenauslese, are just two of the things that have us scratching our heads.
The structure propping up German wine is systematic and with a few basic facts, a better understanding of German wine, and specifically Riesling, will fall into place.
No better place to begin than geography. Germany's wine regions lie in the southwest part of the country, bordering Switzerland, France, Luxembourg and Belgium. There are more than a dozen designated wine regions, mainly along the Rhine, Mosel, Saar and Ahr rivers. The smallest is Ahr, near the Belgium border, while long and skinny Baden is the largest, stretching east of Heidelberg then south to Freiberg, along the Rhine River.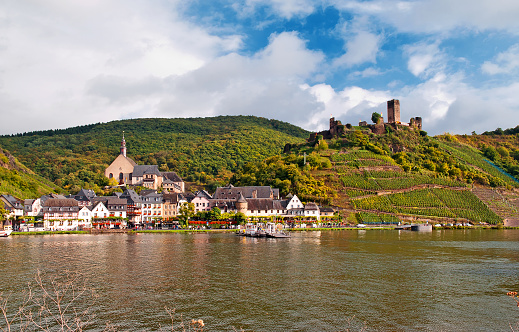 Castle on the Rhine
Then there are the grape varieties, most of which are not familiar to American wine drinkers. Except for Riesling. While Americans were going gaga for Chardonnay, German winemakers were quietly, perhaps too quietly, talking up the virtues of Riesling. There was even the suggestion that Riesling was the king of white wines.
Just a minute, cried Chardonnay lovers! That's going to far.
Perhaps, but to understand that claim means getting your head around German wine, something that many wine drinkers discovered ain't easy. That's why the German Wine Academy was started.
A Personal Remembrance of An Irish/German Prank!
(

There are times in life (some would say far too many) when you don't have a clue. Everything appears to be
moving ahead normally and you're confidant you know what's in the future. But a friend has been laying the framework for a practical joke that will slowly mess with your mind.
For me, it started when Denis Broderick and I met at the German Wine Academy, an educational effort with the sole purpose of providing clarity about German wine. Denis hails from Northern

Ireland and has a love of wine. He is a gregarious Irishman with a quick wit, and an easy way with people, so naturally we quickly became friends.
Throughout the week, Denis and I muddled along, learning about German wine, in the classroom and on the road visiting various wineries, large and small along the Rheingau and Mosel-Saar-Ruwer. It was an immersive experience that served to expand my interest in all things Riesling.
After graduation, Denis returned to a small town outside Belfast and I went back to California. It never occurred to me then that my friend Denis was cooking up a delicious joke that didn't begin to unfold until months later.
I had an assignment to write a piece about Scotch whisky and Irish whiskey, so I packed my bags and headed for Scotland and Northern Ireland. Doing a distillery tour through the Scottish Highlands is a pleasant way to experience the beauty of Scotland, eventually ending up along the rugged west coast. (Note: The Scots and Canadians prefer the spelling "whisky," while the Irish and Americans use "whiskey."
To get from Scotland to Northern Ireland, you can fly. A more interesting, low-key way to cross the Irish Sea, is by sea-going ferry. You board in Cairnryan, on the west coast of Scotland and land in Larne, the eastern port north of Belfast. It's not as fast as flying but is far more civilized and relaxing.
An appointment was set for me at Bushmill's, the premier northern Irish whiskey, the following morning, so I checked in to my lodging.
"Ah, Mr. Boyd, I have a message for you," said the desk clerk with a friendly smile.
My wife had my itinerary, so it could be from her... maybe something is wrong? "Welcome to Ireland, Jerry," signed "Your German girlfriend." What's up with that, I thought?
In the days that followed, there was a message waiting for me, from my mysterious "German girlfriend," when I checked in to my lodging. My traveling companions were beginning to eye me with suspicion.
Then on the day before leaving, I was invited to lunch at a very nice country inn. I don't remember the name of the inn, but I distinctly remember the owner's greeting.
"Jerry, I regret to tell you that the rabbit died!" Signed by you know who.
Here I am, standing there dumbfounded in the middle of this lovely Irish inn, feeling like everyone was in on the "German girlfriend" thing but me. So, I tried to act nonchalant, but my brain was spinning. Then a light went on.
"Do you know Denis Broderick," I asked the inn owner? He laughed, slapped me on the back and admitted that he was in on the joke. I had forgotten that Denis was in Northern Ireland catering and that I had sent him my itinerary.
So, is there a take-away or moral to be learned from all this? Don't mix German wine and Irish whiskey and remember where your friends live.)
But back to Riesling. Here are a few facts about Riesling, Germany's best-known white wine, compared to Chardonnay, the world's most popular white wine: Riesling stands extremely well on its own, with no oak to prop it up; Riesling is more versatile than Chardonnay, made in a wide range of styles, from very dry to very sweet, even sparkling; Riesling tends to be relatively low in alcohol. Riesling pairs with a variety of foods, from seafood to Asian dishes.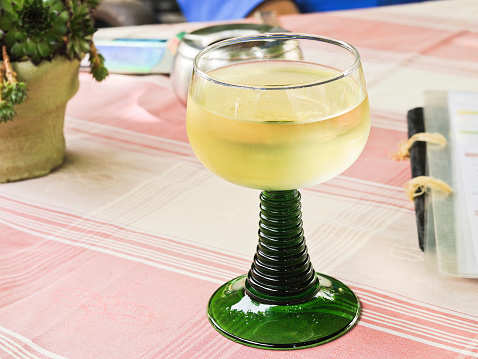 Riesling in German wine glass
Riesling's charm is its fresh fruit aroma and flavors, balanced with bracing mouth-watering acidity, a combination that makes Riesling an ideal choice with food. And there is a certain floral note in Riesling like jasmine, but often with a hint of honey and minerals.
While the popularity for dry Riesling has been on the rise, Riesling's sweeter side remains under-appreciated. German sweet wines fall into two general classes: eiswein (ice wine) and botrytized wines. To make eiswein, grapes are picked and pressed while frozen. Freezing concentrates the grape sugars and acids. Botrytized wines are made from grapes infected by a good form of bunch rot, known as botrytis, or "noble rot." A botrytized wine, especially Riesling, has a unique honeyed bouquet and flavor. Botrytis is also responsible, on Sauvignon Blanc and Semillion, for the great French sweet wine, Sauternes.
The German Wine Law of 1930, revised in 1971, established a precise set of rules for dry and sweet wines and, in fact, everything from vineyard designations to grape ripeness. Some German winemakers feel that the wine laws are too rigid and strict, not allowing for such things as climate change and the fast moving international wine market. All of this bureaucracy sets standards for the precision and reliability of German wine.
There is so much more to know about Riesling and how it all fits in to German grape growing and winemaking. An excellent source I recommend is "The Oxford Companion to Wine." And, here's a short list of German Riesling producers you might look for. Mosel and Saar: Dr. Loosen, Dr.Thanisch, J. J. Prum, J & H Selbach, Markus Molitor, Monchof Estate, Maximin Grunhau. From the Rheingau: Georg Breuer, Goldatzel, Kunstler, Leitz, Schloss Johannisberg, Schloss Vollrads, Spreitzer Estate.
-O-
Please contact me at boydvino707@gmail.com for my policy on submitting wine samples. Unsolicited samples will be returned to sender.
Next Blog: I'll be on vacation, so the next blog, on Syrah/Shiraz, will be posted on September 17, 2019.