Things are popping on the wine front. More high-end restaurants are coming on line with an informed understanding that high quality creative food shows best when paired with carefully selected wines.
After so many years of wine being secondary to food, its now time for the two to share a place of equal importance.

Credit wine-savvy restaurateurs and knowledgeable sommeliers for creating wine lists that operate outside the Chardonnay/Cabernet box and for featuring wines from unknown places such as the Jurancon and Jura.
While sounding similar, these two mostly unknown French wine regions offer a variety of white wines that challenge the standard offerings. Indigenous grapes, with unusual names, are transformed into wines that are surely outside the box: Courbu, Poulsard, Arrufiac, Petit Manseng, Gros Manseng, Trousseau and Savagnin.
Jurancon
Along the foothills of the western Pyrenees is a string of individualistic wines, like Madiran, Cotes de St-Mont, Irouleguy (Basque) and Jurancon. Madiran, a deep tannic red made from the Tannat grape, had its day a few years ago, while St-Mont and Irouleguy never made an impact in the U.S. market.
The beauty of Jurancon

Better known, although not always easy to find, are the dry and sweet Jurancon wines, made mostly from the Petit Manseng, with a little Gros Manseng. Jurancon sec is a dry, crisp white packed with spice and aromatic fruits.
Sweet Jurancon, made from the Basque grape, Petit Manseng, is one of a variety of sweet French wines that are unique in their own right, but share some similarities. For example, the PM grape is resistant to various molds, while Semillon, the core grape of Sauternes thrives on the botrytis mold; Petit Manseng does equally well at various levels of sweetness, but year after year, Sauternes is about the same sweetness; Jurancon often is slightly green-hued; Sauternes is a bright medium gold.

Outside France, Petit Manseng is popular in Uruguay, brought there, along with the red variety Tannat, by Basque settlers. Experimental amounts are also to be found in California, New Zealand, Italy and Australia.
Expect to pay between $15-$20 for Jurancon blanc, such as Domaine Bordenane and Domaine Cauhape.

Jura
Jura is a small eastern French wine region with a wide variety of wines, made mainly from five grapes: Chardonnay, Pinot Noir, Poulsard, Trousseau and Savagnin. The first two are the classic grapes of neighboring Burgundy and came to the Jura centuries ago.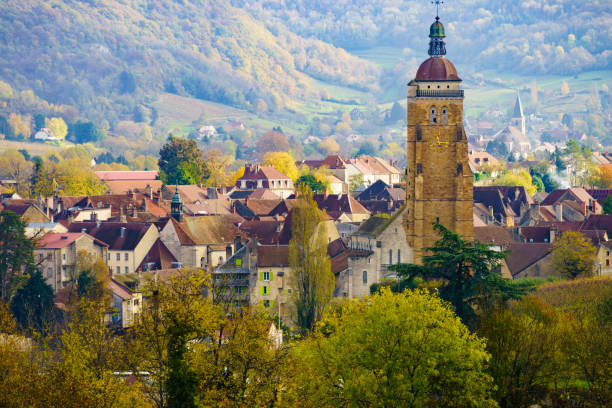 Village of Arbois, Jura

There is an interesting lineage story, at least to grape researchers, connecting Trousseau and Savagnin, that's unique to the Jura. DNA profiling has revealed a connection between Trousseau and the Portuguese grape Bastardo, sometimes used in Dao red wine. Further, Trousseau is likely a sibling of both Chenin Blanc, Gewurztraminer and Sauvignon Blanc and somewhere down the line, it is related to Savagnin.
Savagnin is a very old grape, native to the region around Jura. Savagnin has some similar characteristics to Gewurztraminer and Sauvignon Blanc. Curiously, Savagnin is related to both grapes, although the flavors of SB and GT are quite different.

White wine made mainly from Trousseau is powerful, with a forward spicy perfume. Savagnin flavors are very similar to Trousseau. With both Trousseau and Savagnin, the emphasis is on perfumed.
Jura has two main sub-appellations: Arbois and Cote du Jura, both of which make red, white, pink and sparkling wines. About two-thirds is white wine.

Jura and Cote du Jura whites are priced from $20-$30, for Chardonnay and Savagnin blends or a different take on French Chardonnay. Look for Domaine de l'Aigle and Domaines des Carlines.
Part of the enjoyment of wine is the search and discovery of something new. Jurancon and Jura are not supermarket wines, but should be available from your local wine merchant.
Next blog: Cabernet Franc
Leave a comment or write to me at boydvino707@gmail.com