"Many readers have asked me to divulge my wisdom about wine, and I do so gladly, for wine is a noble thing, being much slower than the martini (known in bibulous circles as the quick blow to the back of the head) and much harder than differential calculus." Russell Baker, 1974, New York Times.
At the close of the last episode, I had returned to Bavaria from France and to the beer-town of Freising, after visiting Janet's brother, Gene Boyle, who was recuperating in an Air Force hospital in Wiesbaden, Germany, from a motorcycle accident in France. While in Wiesbaden, I was introduced to wine at a wine and food festival.
Before heading back to the "Land of the Big BX (Base Exchange)," there was one more experience with the pleasures of German beer. I had spent some time at a five-man radio relay site situated in a tiny farming village outside Augsburg. The work schedule was one day on standby, one day on duty and three days off, so in my time off, I sipped some beer and practiced my German by playing Bavarian card games with the old men of the village.
In 1957, the end of my assignment in Germany coincided with the end of my four-year enlistment, so I packed my duffel bag and headed for Pennsylvania. Back in civilian life, my prospects for employment were uncertain and "My Life in Wine" took a temporary detour.
A mini-recession in '57 was hurting the job market in the Philadelphia area, but I was lucky to land a few jobs, even though all of them lacked interest and opportunity. One bright spot: Janet and I had agreed to marry the following May, so with no permanent job prospects in sight, I re-enlisted in the Air Force, retaining my rank and securing an assignment to Massachusetts.
My first assignment back was in a communications squadron at Otis Air Force base on Cape Cod. A small group of technicians, on rotation from a Texas Tower, off the coast of Massachusetts, shared our shop. It was a crowded space and a number of the guys were looking for the same promotion. So I volunteered for a position at a detachment in Cambridge. I learned later that the Texas Tower technicians lost their lives when the tower they were on went down in a north Atlantic storm.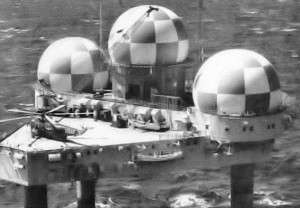 A Texas Tower
Our detachment admin clerk told me of an opening for my grade specialty at Hickam AFB, Hawaii, which sounded a lot better than chilly Massachusetts. So, on April Fools Day, I asked Janet were she would like to be stationed next and she said Hawaii. When I told her about the assignment, she thought I was fooling her. I got the assignment, though, and we were off to sunny and warm Hawaii.
Nothing much happened with wine while in Hawaii, but at our next assignment in Sunnyvale, California, my re-introduction to wine was about to take place. I was assigned to a satellite tracking station at Lockheed in Sunnyvale and we found a house to rent in San Jose. I had signed up for classes at San Jose City College and heard fellow students talking about weekend visits to a cluster of wineries in nearby Santa Cruz Mountains.
The winery mentioned more than any others was owned by Dr. David Bruce, a San Jose dermatologist. Some of the comments passed along by fellow students were more about the man than the wines. I got the impression that David Bruce was some sort of wine oracle and that pilgrims made a trek to his mountain winery on Bear Creek Road to hear his comments about the pleasures of wine.
So, one weekend, I visited David Bruce and found a quiet, somewhat modest man, describing the unique qualities of Santa Cruz Mountain Pinot Noir and Zinfandel. Bruce was a trail blazer who encouraged more people to follow his lead and open wineries in the Santa Cruz Mountains. Curiously, he was more enthusiastic about making a success of Santa Cruz Mountain Zinfandel than Pinot Noir, although it was pinot that ultimately made the Bruce name.
A few sips of Bruce Pinot Noir and I was hooked, again. The seductive flavors took me back to my serendipitous tasting (Gamay? Pinot Noir?) in the French train station restaurant. Unfortunately, our meager budget then didn't allow for a bottle of Bruce Pinot Noir and I knew nothing about Zinfandel.
My curiosity to learn more about wine was growing. I happened to see an article in the "San Jose Mercury News," by Paul Gillette about a winery in the hills above Saratoga, started by a group of fellow scientists at Stanford Research Institute. Dave Bennion brought the group together and was the first winemaker when the Ridge Vineyards Winery opened in 1960. By the time I visited Ridge for the first time. Paul Draper had been hired as the winemaker.
Draper's crowning achievement was arguably California's best Cabernet Sauvignons (some say it is the best) called Ridge Monte Bello, named for the famed ridge. Draper also made a string of Zinfandels from grapes purchased in Amador, Napa and Sonoma counties, such as the famous and popular Lytton Springs and Geyserville Zins.
Monte Bello Vineyard
I didn't have my first taste of Monte Bello Cabernet until years later, but I became as familiar, as our budget would allow, with Ridge Zinfandels. The first taste of Ridge Geyserville Zinfandel at the winery was a revelation. Big, bold and over flowing with spicy Zin fruit and high alcohol; it was the ultimate seduction for a student of wine.
There is a natural association between Zinfandel and relatively high alcohol, but in those days, it was news to me. I did learn early about the natural pairing of California Zinfandel and grilled steaks and burgers. At some point in my tasting experience, I had tasted a monster Zinfandel from the Monterey Peninsula Winery, with a side label suggestion that the wine was an ideal match with a "Zen macrobiotic casserole." I didn't know then (nor do I know now) what that is, but I laughed when I read one of the most unique wine and food recommendations I had seen.
After my visit to Ridge, the names of more local wineries crossed my consciousness and I started reading everything I could find on wine. One surprise was discovering that my house in East San Jose was only a few miles from Mirassou Vineyards, and that the once thriving wine business in Santa Clara County was being slowly squeezed out by a fast-growing high tech industry.
As my interest in wine grew, enthusiasm for my Air Force job in electronic maintenance waned and so I decided to change career fields to radio and television production. My first assignment, fresh out of school, was a remote site near the Arctic Circle in Labrador. Not long after arriving I discovered Mateus Rose from Portugal.
Mateus Rose
It was Thanksgiving and although it wasn't strictly legal to serve alcohol in a mess hall, our commander had a couple of cases flown in. The fresh berry flavors, hint of sweetness and a little fizz were just the right thing to perk up a common Air Force holiday turkey meal with all the trimmings. To this day, rose and Pinot Noir are my go-to wines at Thanksgiving.
In Episode 4, scheduled for July 3, 2020, I go wine shopping at a Piggly Wiggly, interview an eccentric Austrian orthodontist winery owner, sell my first wine article and more.
End Note: While browsing through my wine book library, I came across "Wine Memories," a delightful little collection of great writers on the pleasures of wine. I was surprised to see an entry in the book by Calvin Trillin titled, "My Life in Wine," first published in 1985. I had never read Trillin's essay but I'm honored to share the title with him.
The quote by Russell Baker, at the head of this blog is from "Wine Memories." Watch for more memories of wine in future blogs.
-0-
Next blog: The
World's Best Wine?
Comments?
Suggestions? Email me at boydvino707@gmail.com