F
or almost as long as I can remember, the good folks that represent (French)
Champagne have worked diligently to persuade sparkling wine makers from throughout the world to stop misusing the word Champagne. At times, their efforts must have seemed futile.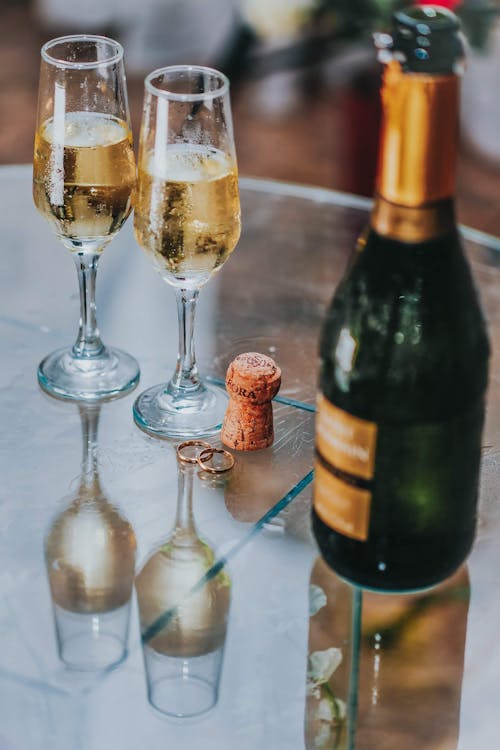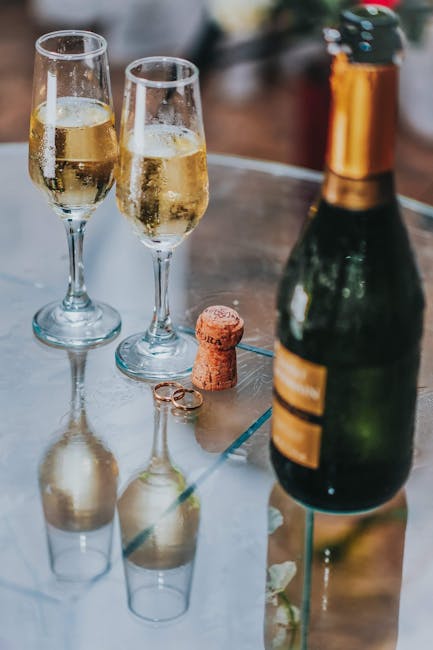 As a prelude to the holiday season, then, as well as an homage to one of the world's great wines, here are some tips on enjoying Champagne during the holidays and throughout the year.
All references here to wine with bubbles produced in a delimited area in northern France, will be called Champagne. All other wine with bubbles will be known simply as sparkling wine. I make that distinction because there are still wineries in California and South America that abuse the name Champagne.
For some unexplained reason, the Champagne houses that make sparkling wine in California label their product sparkling wine, while those same Champagne houses that make sparkling wine in South America use Champana, the Spanish word for Champagne.
The governmental body that looks after such things is the Comite Interprofessionnel du Vin de Champagne (CIVC). The CIVC also gets a little annoyed with people who insist that Champagne is just a celebratory wine not to be enjoyed at other times. Although the focus of this blog about Champagne is mainly for holiday sipping and dining, I urge you to enjoy Champagne any time of the year.
The Region and Grapes
The region of Champagne is a short car ride north east of Paris, in the Valley of the Marne river. The relatively small region, shaped like a mushroom, is composed of just over 85,000 acres of vines mainly in the Montagne de Rheims and the Cote de Blancs, along with three other districts. Epernay and Rheims are the main cities, with the smaller, but important town of Ay, not far from Epernay.
Pinot Noir, Chardonnay and Pinot Meunier are the three grapes used in making Champagne. Although all three varieties are grown in each of five districts, the bulk of the best Pinot Noir is planted in the Montagne de Reims, Chardonnay mainly in the Cote de Blancs and Meunier in the Vallee de la Marne.
While the importance of Pinot Noir and Chardonnay cannot be over stated, creating a blend of the two, sometimes with a small amount of Meunier, allows for the seamless consistency of a house style.
Making Champagne
The method by which a wine gets its bubbles through a second fermentation in the bottle is called methode champenoise. The process is long and labor intensive, some estimates claim more than 300 steps, from fermentation to finishing the bottle with a protective hood.
The first fermentation of a non-vintage cuvee (blend) produces a dry, high acid, relatively neutral base wine. High acidity is necessary to keep the wine fresh throughout the long process. Varietal character is not desirable during the first fermentation since the aim is for character and quality to develop during the process. Next is the balancing of the characteristics of the different base wines in a blending process known as assemblage. Assemblage may also include reserve wines from previous vintages.
(Blending with Richard Geoffroy. On a v
isit to Moet et Chandon in the mid-1990s, I was given the opportunity to formulate an assemblage with Richard Geoffroy, then the
winemaker for Cuvee Dom Perignon, Moet's prestige Champagne. Geoffroy had a reputation as a brilliant winemaker, so I was thinking to myself that he may have felt obligated to be patient with the American wine writer.
Not to worry. Richard Geoffroy was a friendly, patient teacher as well as a master blender. I had participated in component blending sessions in Cognac and Scotland and was impressed at the blender's skill and knowledge, faced with dozens of samples, and then to quickly smell and sometimes taste each sample, deciding "yes" or "no," whether or not, to add that sample to the final blend. Champagne blenders may taste up to 70 different base wines before making a final decision on the blend.
We were faced with an array of Pinot Noir, Chardonnay and Pinot Meunier base wines from various vineyards owned by Moet or from contract growers. The Champagne blender must know the different soils and micro-climates of each vineyard and the influences each have over the different varieties. And the blender must evaluate base wines that are out of balance and will only attain balance following the second fermentation.
As we tasted through the samples, Geoffroy asked for my impressions and then he would comment on each wine. Knowing that youthful Chardonnay is citrusy and acidic, Pinot Noir has more body and finesse and Meunier offers a floral note, helped me, but more often than not, I miss-identified the varieties, especially the difference between Pinot Noir and Meunier.
It was a humbling experience and I came away from it with aching teeth from the high acid base wines and a new appreciation for blenders who unerringly practice their skill and art so that we can enjoy our favorite fizz vintage after vintage.)
The second fermentation is where the wine begins to develop style and quality. Liqueur de tirage, a mixture of still wine, sugar and yeasts are added here. The amount of sugar determines the amount of bubbles: light sparkle (petillant), medium fizz (cremant),
mousseux. Today mousseux is used mainly for other French sparkling wines. In all there are seven sweetness levels, with these four the most commonly seen:
Brut Nature, 0 to 0.2%; Brut, 0 to 1.5%; Sec, 1.7 to 3.5%; Doux, 5% plus.
The wines are then bottled and sealed with a crown cap (like the ones you see on soda bottles) and placed in cellars for aging. Champage aging cellars, known as crayeres hold millions of bottles at various stages of aging.
Depending on the producer, the second fermentation can take up to three months or longer. During this period sediment settles on the inside of the bottle, requiring a riddling (remuage) to shake it loose. Today, remuage is done by placing a large number of bottles in a gyropalette (a sort of mechanical riddler) or by the traditional method of mounting the bottles neck down in a pupitre, an a-frame device with holes for the bottles. Manually turning the bottles in a pupitre takes about eight weeks to complete, while riddling in a gyropalette takes just eight days.
Finally, the bottles are placed neck down in a bath of very cold brine, freezing the sediment that has gathered inside the crown cap in to a solid plug. The crown cap is popped off, the sediment plug dislodged (degorgement), sweetness level adjusted, a cork pressed in place, topped by a metal cap and the whole thing secured by a wire muzzle, then the package is finished with a hood.
The result of this long process is a bottle of non-vintage Brut Champagne, the most popular style. Also available are Vintage Brut, Brut Rose and a prestige bottling, such as Roederer Cristal and Moet et Chandon Dom Perignon. Prices for non-vintage Brut range from $35 to $70. Prestige Champagne prices: Moet Dom Perignon and Krug, $170, Roederer Cristal, $270.
By comparison, California's Scramsberg Reserve Brut sells for $120, J Vineyards Brut, $23 and Domaine Chandon California Brut, $24.
Champagne and Holiday Food
Holiday meals are often
a mix of something sweet, something spicy and something
vinegary, and that makes finding a Champagne that won't fight with at least one of those dishes a challenge.
With the exception of Brut Nature which is usually bone dry, all levels of Champagne have some sweetness. The equalizing thing with Champagne is the brisk acidity and the bubbles. This sweet/salty/spritzy combination makes salty foods or snacks like smoked salmon, nuts, potato chips and popcorn good choices as appetizers or starter course.
Caviar and Champagne is a marriage that appeals to some, while others suggest that caviar goes better with Chablis or a lightly oaked Chardonnay. The same suggestion holds true for clams and oysters.
The natural acidity of Champagne is a good foil for creamy dishes and those with high fat content. Turkey and Virginia ham work, but not cranberry sauce and candied yams.
Desserts of all kinds are favorites during the holidays and if you fancy a Champagne with your pie or cookie, remember the balanced sweetness rule - the sweetness of one shouldn't overpower the other.
There is so much more to say about Champagne, but I'll close with this ode to Champagne from Madame Lilly Bollinger:
I drink it when I am happy, and when I am sad.
Sometimes I drink when I am alone.
When I have company, I consider it obligatory.
I trifle with it if I am not hungry, and drink it when I am.
Otherwise I never touch it -- unless I am thirsty.
A voltre sante!
Next Blog: The Pleasures of Port
Comments? Suggestions? Email me at boydvino707@gmail.com